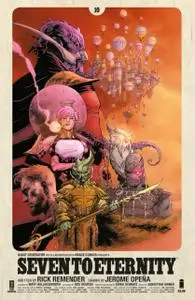 Seven To Eternity #7-16 de 16
Image 2018-21 | Spanish | CBR | 10 núm. | 206 MB Total
Autores: Remender, Opeña, Hollingsworth y Erika Schnatz
Ahora, sufriendo las secuelas del pantano sensible, los Mosak siguen a Adam al hogar de la infancia de Jevalia para descubrir un paraíso pisoteado, las almas desangradas de sus héroes y una industria fétida sedienta de más. SEVEN TO ETERNITY se enorgullece de dar la bienvenida a la superestrella JAMES HARREN como artista invitado especial para revelar las alturas del heroísmo en un mundo inundado de corrupción.