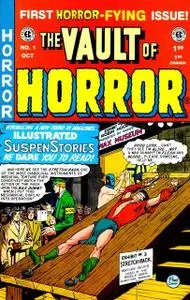 Vault Horror Classic
RS | CBR | TOTAL 350 MB
The Vault of Horror was part of Bill Gaines' EC Comics line during the early 1950s. The bi-monthly horror comic, edited by Al Feldstein, began with an issue cover-dated April – May 1950. Over a four-year span, it ran for 29 issues, ending with the December 1954 – January 1955 issue. Johnny Craig was promoted to editor of the comic with issue 35 in February, 1954.
The Vault of Horror originated through the crime comic War Against Crime published by EC in the late 1940s. In 1950, Gaines and Feldstein experimented with horror stories in that title and its companion, Crime Patrol. The Vault Keeper made his first appearance in this title. With issue 12 of War Against Crime, the title was changed to The Vault of Horror, and it became a full fledged horror comic for the remainder of its run. Due to an attempt to save money on second-class postage permits, the numbering did not change with the title change, so the first issue of The Vault of Horror was #12.
http://rapidshare.com/files/64180487/The_Vault_of_Horror_022__R_.cbz
http://rapidshare.com/files/64179879/The_Vault_of_Horror_021__R_.cbz
http://rapidshare.com/files/64179276/The_Vault_of_Horror_020__R_.cbz
http://rapidshare.com/files/64178780/The_Vault_of_Horror_019__R_.cbz
http://rapidshare.com/files/64178325/The_Vault_of_Horror_018__R_.cbz
http://rapidshare.com/files/64177816/The_Vault_of_Horror_017__R_.cbz
http://rapidshare.com/files/64177534/The_Vault_of_Horror_016__R_.cbz
http://rapidshare.com/files/64177070/The_Vault_of_Horror_015__R_.cbz
http://rapidshare.com/files/64176599/The_Vault_of_Horror_014__R_.cbz
http://rapidshare.com/files/64176112/The_Vault_of_Horror_013.cbz
http://rapidshare.com/files/64175814/The_Vault_of_Horror_013__R_.cbr
http://rapidshare.com/files/64175068/The_Vault_of_Horror_012__R_.cbr
http://rapidshare.com/files/64173770/The_Vault_of_Horror_039__10-11_1954_.cbz
http://rapidshare.com/files/64173123/The_Vault_of_Horror_038.cbr
http://rapidshare.com/files/64172025/The_Vault_of_Horror_037.cbz
http://rapidshare.com/files/64171206/The_Vault_of_Horror_036.cbz
http://rapidshare.com/files/64170198/The_Vault_of_Horror_035.cbr
http://rapidshare.com/files/64168210/The_Vault_of_Horror_034.cbz
http://rapidshare.com/files/64167255/The_Vault_of_Horror_033.cbr
http://rapidshare.com/files/64166563/The_Vault_of_Horror_032__R_.cbr
http://rapidshare.com/files/64165597/The_Vault_of_Horror_031.cbr
http://rapidshare.com/files/64164348/The_Vault_of_Horror_031__R_.cbr
http://rapidshare.com/files/64163320/The_Vault_of_Horror_030.cbz
http://rapidshare.com/files/64162154/The_Vault_of_Horror_028__R_.cbr
http://rapidshare.com/files/64161496/The_Vault_of_Horror_027__10-1952.cbr
http://rapidshare.com/files/64159749/The_Vault_of_Horror_026__R_.cbr
http://rapidshare.com/files/64159166/The_Vault_of_Horror_025__R_.cbz
http://rapidshare.com/files/64158616/The_Vault_of_Horror_024__R_.cbz
http://rapidshare.com/files/64157977/The_Vault_of_Horror_023__R_.cbz