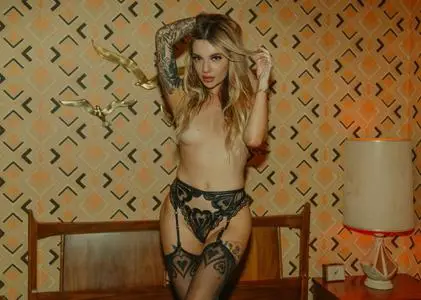 Junipr Keiko - Tina Louise Photoshoot 2021
34 jpg | up to 2021*2739 | 39.12 MB
"This is the vessel that I'm fortunate enough to walk through life in, and I couldn't be more proud of it,"
says
Junipr Keiko
as she returns to Playboy for this third pictorial shot by the photographer,
Tina Louise
. On location in Joshua Tree, California, Junipr spends the night connect ing with all of you, her most recent Playboy fans. For Junipr, posing nude brings her great pride and confidence.
"Most of us spend so much time at war with our own bodies when they carry us through everything,"
she shares thoughtfully.
"Life is so short, and youth is gone before most of us really learn to appreciate it. Posing nude is very freeing."
Junipr can often be found doing any of her many hobbies in her free time.
"I love reading on my balcony and hiking through nature,"
she begins,
"I write poetry, paint with watercolors, and practice film photography too."
Make sure to check out her previous pictorials right here on AvaxHome!