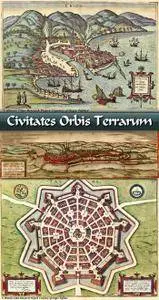 World Atlas Civitates Orbis Terrarum
format JPEG | up to 4100x1450 | 336 Mb
The Atlas of the cities of the terrestrial world (Civitates Orbis Terrarum) was released in the 16th century (it was published for 46 years - from 1572 to 1618). A total of six volumes were published. Authors of the atlas - engraver and publisher Frans Hogenberg and theologian George Brown. The Atlas was published in Cologne, but nevertheless belongs to the Antwerp cartographic school. In addition, it is known from the personal correspondence of the authors of the atlas that the idea of creating an atlas was born exactly in Antwerp. Atlas is the second time printed atlas in world.
Atlas is a set of perspective plans "from a bird's eye view", colorful engravings depicting landscapes, city buildings, figures of residents in national costumes, made according to the drawings of the artist and draftsman Georg Hofnagel. In addition, the atlas contains plans based on geodetic surveys. Most of the plans are plans of European cities, since the territories of Africa, South America and Asia at the time of the creation of the atlas were not sufficiently studied. Plans "from a bird's-eye view" are detailed detailed sketches of panoramic views of cities from any high point. Most of the geodetic surveys were made by Jacob van Deventer.