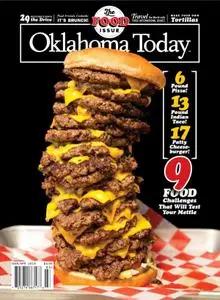 Oklahoma Today - February 22, 2019
English | 112 pages | True PDF | 39.9 MB
Every spring, Oklahoma Today brings you its most delicious issue of the year: The Food Issue! This year, we tackle Oklahoma food challenges, including the seventeen-patty cheeseburger at Paw Paw's Hamburgers in Chickasha that graces our cover, plus a thirteen-pound Indian taco, a six-pound pizza, and more. Also, our sixth-annual "Food Worth the Drive" feature rounds up twenty-nine spots you won't want to miss on your next Oklahoma road trip; our brunch feature spotlights some of the best places to relax, talk, and enjoy a sumptuous weekend meal with friends (plus cocktails!); our photographic portfolio introduces you to some of the most interesting and tasty international dishes available right here in Oklahoma; and Tulsa writer Liz Blood shares an essay about hunting for food, including a recipe for venison liver mousse. All this and more in the March/April 2019 issue of Oklahoma Today!