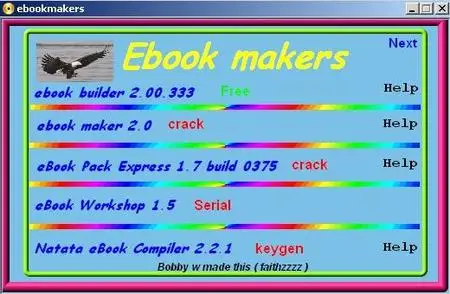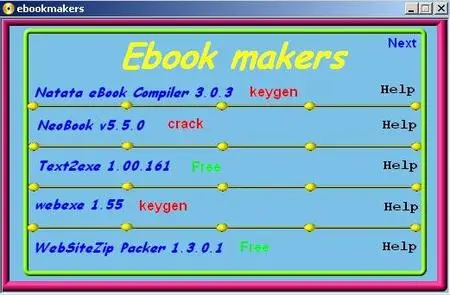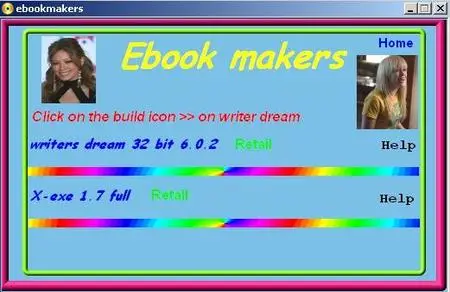 ebook builder 2.00.333
There is no installation or setup. EBook Builder will not update or alter any existing
computer files or libraries.prides itself on this respect function.
EBook Builder is perfect for the budding author or seasoned writer. Compile your
valuable penship to Chapters/Book format, using Rich Text Format (RTF) or plain text,
into standalone, independent EBooks (.exe), requiring no supportive software
ebook maker 2.0
EbookMaker is a professional Ebook compiler software. It can compile all
HTML files and their included image, JavaScript, Flash, MP3, and video
files in a specific folder into a standalone .EXE file. Such file is easy
to distribute via CDROM, Email, and Internet. Ebook uses Internet Explorer
to display its HTML pages, so readers don't have to install any other
software to open Ebook for reading. Simple and easy to use, EbookMaker
provides a variety of features to meet any custom need which an Ebook author
may have for user interface, functions, and content protection, etc.
eBook Pack Express 1.7 build 0375
eBook Pack Express is a professional ebook creation software. It is very user-friendly and has all the features needed for professional
ebook creation. It converts HTML, JavaScript, Flash, MP3 and video
files into stand-alone eBooks, eZines, catalogues, reports and multimedia presentations. The compiled ebook can be easily distributed via CDROM, email or Internet.
eBook Workshop 1.5
cant find a readme for this one
Natata eBook Compiler 2.2.1 / Natata eBook Compiler 3.0.3
Natata eBook Compiler is an powerful software that packs and compresses multiple files including HTML, CSS, WAV, TXT, GIF, JPG, MID, JavaScript, DHTML, Flash, PDF, etc and converts them into a single compact executable file which contains a small viewer that launches the selected start document in an e-book like interface. You can use it to compile e-books, offline web pages, HTML photo albums, presentations and more. The interface uses a step-by-step approach that guides you through the process of creating your compiled file.
NeoBook v5.5.0
NeoBook 5 allows you to produce royalty-free, professional quality,
electronic publications. It easily integrates text, images, sound, music,animation, interactive controls, color and other graphical elements to create stunning multimedia productions. NeoBook can be used to produce electronic magazines (e-zines) that can be distributed over the Internet,interactive educational and training materials, CD-ROM interfaces, electronic books, reference works, brochures, catalogs, entertainment titles, and much
Text2exe 1.00.161
Convert plain text or RTF document into tiny standalone .exe Windows program.
Document capacity limited to approximately 1Mb capacity.
Features:
Compact .exe header 53Kb
Definable Title/Author details
Definable background color with screen color grab
Definable border width
Password protect
Information dialog
Sizeable
Multilingual interface - see our Select Language
No installation
webexe 1.55
What does WebExe do?
WebExe lets you convert your HTML pages into a stand alone, self-running EXE file.
This file contains a built-in browser, so that no additional software for starting and
viewing the file is required
WebSiteZip Packer 1.3.0.1
Welcome to WebSiteZip Packer – a powerful and easy-to-use application which will help
you to turn a single HTML page or a group of pages into a solid executable file (.exe) with
an integrated HTML browser.
After using our WebSiteZip Packer you can conveniently transport your HTML page or a
complete web site as a single file embodying all necessary components (graphics, sounds,
linked pages, etc.) and present it successfully independently of the type of HTML browser
installed at the destination computer.
writers dream 32 bit 6.0.2
Writer's Dream presents text you have created with
your favorite word processing program as a
super-easy-to-use electronic book. You can display
images and play sounds along with your chapters.
X-exe 1.7 full
X-EXE is an easy-to-use, but powerful program for encrypting and protecting your data.
With X-EXE, you can encrypt files of any type using secure RC6 algorithm.
Your self-extracting encrypted files can be viewed on any Windows PC without needing
to install any special software. Besides, X-EXE supports steganography, thus allowing
you to use digital data hiding technology to encrypt and hide files within other files
(carriers) such as pictures or audio files. Carrier files are not damaged after they are
used to hide secret information.
Download:
32.8 M.B
http://rapidshare.de/files/25641130/ebook_makers_AIO.rar