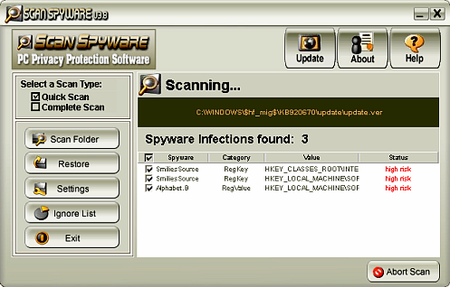 ScanSpyware v3.8.0.2 l 7.7 MB
Remove Spyware & Adware safely from your PC! ScanSpyware removes spyware, adware and many other unwanted programs safely from your PC offering you a fast and smooth web surfing with protection to your privacy. The feature limited trial version comes with life time spyware database updates.
This Full version is equipped with a complete and very powerful Scan Engine, which not only tells you the names of spyware and adware in your system but also generates a detailed log file containing paths of files and registry entries created by these spyware and adware, which can be removed manually if you are not interested in purchasing ScanSpyware.
ScanSpyware offers an excellent product with fast and reliable email support (purchased version). Being a registered user you will get a reply to your inquiry within a maximum time of 24 hours (one business day). After purchasing ScanSpyware you get a 30 days money back guarantee with no questions asked.
If you find that some spyware are left behind in your system after running a scan, you will be associated with one of our support tech within 24 hours (one business day) to resolve the issues. In case the issues are not resolved upto your expectations we will issue you a full refund.
http://rapidshare.com/files/65820663/ScanSpyware_v3.8.0.2.Incl.Update.rar