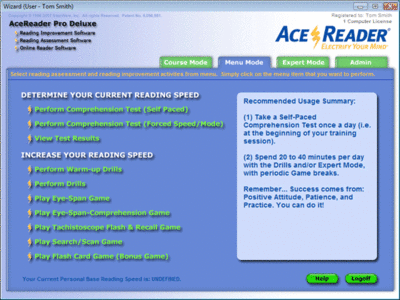 AceReader Pro Deluxe / Pro Deluxe Plus 8.1.0 | 13/11.7 Mb
AceReader is referred to as: Reading Improvement Software; Reading Assessment Software; Productivity Reading Tool; Self-Improvement Educational Reading Tool; Speed Reading Software. Teachers often say… "Finally I found a modern day software version of a Tachistoscope machine used years ago to pace eye movement." It can be used to: (1) assess your current reading level; (2) improve your reading speed and comprehension, both online and offline; and (3) help you read faster while on the computer, by utilizing special display modes. In today's fast-paced information age, it is more important than ever to be a proficient reader. Everyone from high-powered executives to children just learning to read in grade school can benefit from AceReader. Our goal is to help you read faster, while maintaining or even improving your comprehension. When you accomplish this, reading becomes like watching a movie. It becomes fun to read because you're able to absorb more material in a shorter amount of time. In short, it leads to more success and a better overall quality of life. Like anything, it takes practice. AceReader is not designed to teach you how to read, but instead focuses on helping you be more proficient at your reading both on and off the computer.
AceReader Pro
AceReader Pro includes Tests, Drills, and Games designed to assess and improve your reading skills. The program allows you to have the level of control that suits your needs. It includes three methods of operation: Course Mode, Menu Mode, and Expert Mode. The Course Mode leads you through a self-adjusting and personalized training process. The Menu Mode lets you pick-and-choose from a menu list of training activities. The Expert Mode allows you to have full control by letting you load your own material from the clipboard or documents (i.e. Web pages, e-mails, .pdf files, .doc files) and letting you manually set the display modes and speed settings.
This version is recommended for employees who want to run personal copies of the program on their own computer. AceReader Pro can empower your employees and can be used for self-improvement and productivity purposes.
The Tests, Drills, and Games will improve your employees' reading speed and efficiency, both on and off the computer.
The Expert Mode provides employees with a powerful reading tool that allows them to read more efficiently while on the computer (i.e. e-mails, .pdf, .doc, and other text documents). Certain display modes allow them to read with minimum eye movement, which many people find to be more efficient. Other modes allow complete thoughts to display at a time with controlled speeds. By utilizing these advanced display modes, AceReader Pro will help your employees read more efficiently both on and off the computer.
The optional Text-To-Speech add-on allows your employees to "listen" instead of to "read" (i.e. e-mails, .pdf, and other documents). Employees can multi-task and can also take that much-needed break from reading; this also helps avoid eye strain and fatigue.
AceReader Pro Deluxe Plus
(Single Station Business Edition)
This version includes all the features of the Deluxe version (listed above) but can handle an unlimited number of employees on a stand-alone non-networked computers (i.e. in a human resource training area).
Features & Comparison Chart AceReader Pro / Pro Deluxe Plus
System Requirements:
Windows NT, 2000, 2003, XP, Vista, Windows 7 or Windows 8.
20 MB disk space.
Homepage:
www.stepware.com/acereader.html