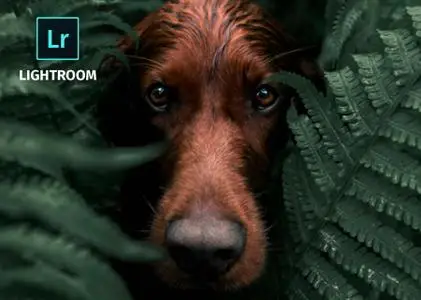 Adobe Photoshop Lightroom 3.2.0 | 753.3 mb
The Adobe product team is pleased to announce the availability of February 2020 release of Photoshop Lightroom 3.2.0. In this release you can now export your raw photos to DNG. This feature was previously available on mobile only.
Adobe Photoshop Lightroom 3.2.0 - Top new features - Date: February 2020Easily export photos as DNG files (Desktop only)
You can now export your raw photos to DNG. This feature was previously available on mobile only.
New in Lightroom desktop
To export photos as DNG files, do the following:
1. Open an album or All Photos view and select the photos you want to export.
2. Press Command (macOS)/Control (Windows)+Shift+E to access the Export screen and select DNG in the File Type list.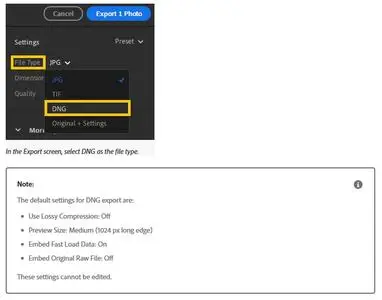 3. Click Export 'n' Photos in the upper-right corner of the screen ('n' is the number of selected photos).
4. Select the folder where you want to export the photos to, and you're done!
Other enhancements
On desktop, you can use keyboard shortcuts for HDR and Panorama merge, choose to include metadata while contributing photos to shared albums, and more.
- Select photos and press Command (macOS)/Ctrl (Windows)+Shift+H for HDR merge and Command (macOS)/Ctrl (Windows)+Shift+M to create a panorama. To know more, see Merge photos to create HDRs and panoramas.
- Drag and drop photos from your computer directly to a desired album in the Albums panel.
- When you contribute photos to shared albums, you can now choose to include keywords, star and flag ratings, and GPS coordinates in the Add Photo dialog box.
- You can export photos that have been contributed by others in shared albums. This can be done only if the album owner has provided download access to contributors.
- Lightroom now autocompletes keywords as you enter them. This helps avoid typos and duplicate keywords.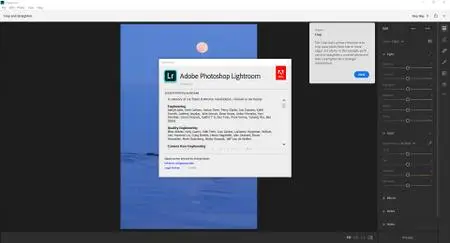 Lightroom is the younger, faster brother of Photoshop.
Unlike Photoshop, it doesn't need a degree in digital engineering to understand.
It is a great photo editing software that already has a raw files processor included. You import your images and you are ready to go. Plug and process. After importing, you have the opportunity to add keywords to each image which is great for image management. This makes searching for those Iceland photographs easy. As long as you stay organised, Lightroom will help you as much as it can.
Folders are another great thing about Lightroom. You can create and add images to them manually. Or, a smart folder process will add and find images through keywords or coloured flags. If you put Adobe Bridge, Adobe Photoshop and Camera Raw in a bag, shake it and pull out a simpler version, you get Adobe Lightroom.
Lightroom vs. Photoshop
Officially known as Adobe Systems,
the company is known for its multimedia and creativity software products. Popular products include Photoshop, Acrobat Reader, and Adobe Creative Cloud.
Headquartered in San Jose, California, the company was founded in 1982 by John Warnock and Charles Geschke. The name Adobe comes from Adobe Creek in California, which ran behind the houses of the company's founders.
One of Adobe's first products was digital fonts, with the company entering the consumer software market in the 1980s. Adobe Illustrator was the company's first consumer product, which was a vector-based drawing program for Mac.
Product:
Adobe Photoshop Lightroom
Version:
3.2.0
Supported Architectures:
x64
Website Home Page :
www.adobe.com
Language:
multilanguage
System Requirements:
PC *
Supported Operating Systems:
*
Size:
753.3 mb
Minimum system requirements for Lightroom:

Operating system: Microsoft Windows 10 with 64-bit support (Version 1803 or later)
Processor: Intel or AMD processor with 64-bit support; 2 GHz or faster processor
RAM: 4 GB of RAM (8 GB recommended)
Space: 2 GB of available hard-disk space for program installation
Hard disk space: 1024 x 768 display
Graphics processor acceleration requirements:
- AMD:Radeon GPU with DirectX 12 support.
- Intel: Skylake or newer GPU with DirectX 12 support
- NVIDIA: GPU with DirectX 12 support.
- 1 GB Video RAM (VRAM). 2 GB of dedicated VRAM (4 GB recommended) for large, high-resolution monitors, such as 4K- and 5K-resolution monitors.
Please visit my blog
Added by 3% of the overall size of the archive of information for the restoration

No mirrors please