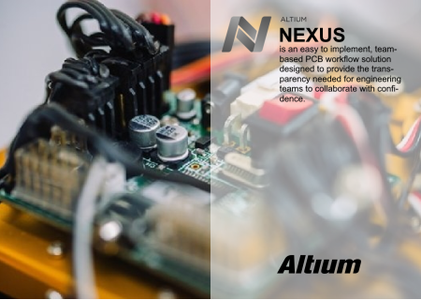 Altium Nexus 5.5.1 | 3.6 Gb
The Altium development team is pleased to announce the availability of Altium NEXUS 5.5.1 Build 13 - the most powerful, modern, easy-to-use release to date.
Schematic
49008 Switching to another application while in-line editing in a schematic text frame could result in the edits being lost and the message "Interactive process not finished" appearing. (BC:17965)
49420 The Find Text dialog now includes a Mask Matching option, when enabled everything in the workspace is masked except the found results. The Mask level (Dimming) and Zooming behavior are configured in the Highlight Methods options in the System - Navigation page of the Preferences dialog. (BC:3857)
49527 Formulas within text on a schematic were not being resolved correctly when the PC was set to use French regional settings for Windows.
49822 The Schematic.EnableCustomDiffPairNaming feature has been moved to Open Beta.
PCB
45204 Stacked THPs and vias generated duplicate drill hits in the Drill Table.
47196 The PCB List panel was displaying an incorrect value for the "Remove Islands Less Than" polygon threshold value when the units were set to mils. (BC:16973)
47379 In a rigid-flex design, if the flex zone has a Coverlay layer with a layer type of Solder Mask, the actual Solder Mask layer is always displayed in the 2D view even when its visibility is disabled in the View Configuration panel.
48786 Double-clicking on stacked PCB objects in 3D view mode with the 'Display Popup Selection dialog' option enabled and the 'Double Click Runs Interactive Properties' option disabled, would sometimes result in the software being locked in 3D view mode and not being able to save the board.
48994 The embedded board array object now includes a Board Shape option in the Properties panel; use this to switch the PCB background from green to transparent. (BC:17814)
49220 Exported ODB++ data was still incorrectly showing back drilled vias as being plated when using millimeters as the default units. (BC:13553)
49358 Millimeters are now the default units when generating output from the PCB such as Gerber, Gerber X2, ODB++ and NC Drill. (BC:15848)
49425 When pasting a via over a pad and some polygons, the selection pop-up would appear, even though there was no ambiguity as to which net (that of the pad) the via should 'pick up'.
49462 In some cases, self-intersecting regions were created when adding teardrops to a PCB.
49463 Self-intersecting regions were being exported to ODB++.
49499 When the PCB.IPC4761Support advanced option is enabled, and there is a certain combination of columns enabled in the Drill Table defaults, and the Drill Table defaults are edited to include certain additional columns, those columns could become repeated in the table.
49520 A pad with the Counterhole option enabled could result in that pad disconnecting from inner layer polygons when the Counterhole size approached the pad size.
49559 The gray-scale color palette used for generating PCB Prints did not offer the correct coloring choices. (BC:18209)
49574 On Windows 7 the PCB Heads-Up display was not correctly updating the location coordinates as the cursor was moved. (BC:18149)
49629 The feature to 'Prevent modification of PCB Component Primitives' is no longer controlled by an option in the Advanced Settings dialog. Instead, an option for it - Protect Locked Primitives in Component - has been added to the PCB Editor - General page of the Preferences dialog and is disabled by default. (BC:18281)
49639 The BoardOutlineClearance rule did not display the edge types for a rigid-flex board.
49664 It was not possible to select any components on a particular PCB document due to a regression involving ordinate dimensions that included several points of measurement.
49735 Drill layers enabled for plotting in the older Gerber/Gerber X2 setup dialogs (pre-Altium NEXUS 22.4) would all be disabled when using the new unified Gerber/Gerber X2 setup dialogs (available from Altium NEXUS 22.4 by enabling the UI.Unification.GerberDialog option in the Advanced Settings dialog).
49906 The settings for mechanical layers added to plots in the old Gerber Setup dialog were not retained when those Gerber settings were opened in the new Gerber Setup dialog.
49922 There was a mismatch in Gerber extensions vs actual layer ordering when generating Gerber/Gerber X2 output using the new unified Gerber/Gerber X2 dialogs (enabled by the UI.Unification.GerberDialog option in the Advanced Settings dialog) and with the output format set to 'filename.* (gtl, gbl, gto,…)'. (BC:18411)
Draftsman
45950 Draftsman now supports copy/paste of Annotation objects between Draftsman documents or from a template to a document. Note that you can only copy an Annotation object when it is not attached to another Draftsman object, such as a View. (BC:16782)
48253 Copying and pasting a table that includes merged cells would result in the merged cells becoming un-merged in the pasted table. (BC:11561)
Platform
45944 VCS analytics and logging has been improved, providing improved error status and logging data.
Data Management
49435 If a Malformed URL GIT error occurred, the error dialog would display the user's password and the Workspace URL. (BC:18032)
49519 The Filter feature in the Components panel (and the MPS panel) was incorrectly displaying the temperature value options in degrees Fahrenheit instead of Celcius.
Import/Export
46882 An exception would occur when importing a specific PADS PCB file.
47927 The Allegro importer would sometimes incorrectly create a region object in the same shape and location as a polygon.
47928 The Allegro importer was incorrectly creating a polygon cutout over unconnected pads within a polygon, making it impossible to control the polygon clearance using design rules.
Simulation
49521 There was an issue with multi-part components where, for floating nodes, a ? was entered into the simulation netlist instead of a new net.
49645 It was not possible to stop a running sweep-type simulation at any stage in the sweep. instead, the simulation would stop only after completing the full number of swept outputs.
49692 The performance has been increased when plotting histograms and parametric plots by a factor of 10.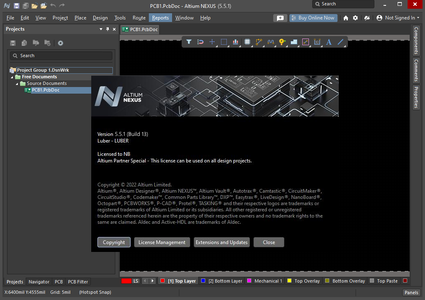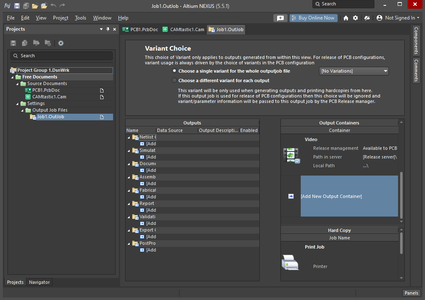 Altium NEXUS
represents decades of innovation and development focused on creating a truly unified design environment — One that enables users to effortlessly connect with every facet of the PCB design process. With features that have pioneered change and an ever-growing community of users, advocates, educators, and experts, Altium NEXUS is truly transforming the industry and pushing the boundaries of what's possible. Experience the world's finest PCB design product for yourself and see why more Engineers and Designers choose Altium than any other product available.
This latest update to Altium NEXUS continues to deliver new features and enhancements to the software's core technologies, while also addressing many issues raised by customers through the AltiumLive Community's BugCrunch system. Along with delivering a range of new features that develop and mature the existing technologies, it also incorporates a large number of fixes and enhancements across the software as a whole, helping designers continue to create cutting-edge electronics technology.
Altium Design 21: A Better Way to Design - What's New Webinar
Altium Ltd.
is a multinational software corporation headquartered in San Diego, California, that focuses on electronics design systems for 3D PCB design and embedded system development. Altium products are found everywhere from world leading electronic design teams to the grassroots electronic design community. Founded in 1985, Altium has offices worldwide, with US locations in San Diego, Boston and New York City, European locations in Karlsruhe, Amersfoort, Kiev, Munich, Markelo and Zug, and Asia Pacific locations in Shanghai, Tokyo and Sydney.
Product:
Altium Nexus
Version:
5.5.1 Build 13
Supported Architectures:
x64
Website Home Page :
www.altium.com
Languages Supported:
english
System Requirements:
Windows *
Size:
3.6 Gb
Please visit my blog
Added by 3% of the overall size of the archive of information for the restoration

No mirrors please