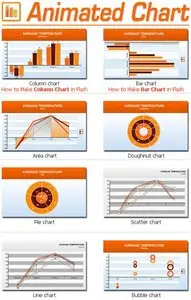 Animated Chart Standard 2.2.1.0 | 2.66 MB
Animated Chart software for web charts in Flash
Do you want to create charts in flash?
There is a need in software for Flash chart making?
Flash chart animation is a great solution for your business visualization!
Animated Chart generates animation charts as movies in Adobe (Macromedia) Flash™ format for publishing them to web sites.
All items and structures of the charts are customizable by clicking on the chart preview directly.
Chart types
Flash chart types are available: Area chart, Bar chart, Bubble chart, Column chart, Doughnut chart, Line chart, Pie chart, (XY) Scatter chart, Radar (Spiderweb) chart; Stock chart (for Pro edition only).
Compare animated flash charts in the real-time mode!
Flash Chart Animation
Your flash chart can be either static (image format) or animated (Flash format) with attractive animation effects for every element:
Appear, Grow, Fall, NeonAppear, Slide, Gather, Swing, Rotate.
Beginning with Animated Chart 2.0 software, Flash 8 animation effects are available to showing them at your flash graphs.
Dynamic Chart
Animated Chart Pro edition allows you to get real time web animation charts and graphs from dynamic data. So you can make flash chart with attractive animation effects and basing to live data. Make charts with live data from any data source!
Why do you need Animated Chart?
Flexible Animated Chart software for web charts in Flash allows you:
* Create your own flash chart in 3 simple steps
* Animate charts in flash
* Change flash chart type with one click
* Create static chart (image format) or animated chart (Flash format)
* Apply a lot of powerful Flash 8 animation effects to the web chart
* Export charts as a html file quickly
* Publish chart flash to web
* Import data series for flash chart creation from Microsoft Excel or text file
* Get real time dynamic flash charts - refresh data from XML file (Animated Chart Pro edition)
* Visual control flash graph options
The program is designed for OS Win9x/NT/2k/XP/Vista.