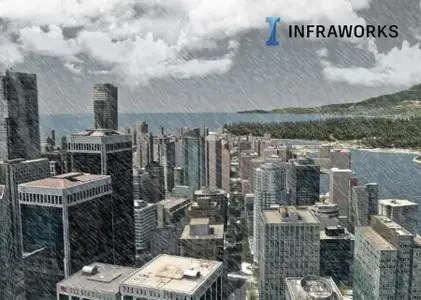 Autodesk Infraworks 2021.2.1 | 2.2 Gb
Languages: Deutsch, English (GB), English (US), Español, Français, Italiano,
日本語, Português, Русский, 中文
The Autodesk development team is pleased to announce the availability of InfraWorks 2021.2.1 is an outstanding tool for aggregating data, visually evaluating design concepts, and communicating design intent. This release includes new and updated features, performance enhancements, known issues and fixes.
What's New in Autodesk InfraWorks 2021.2 - Date: December 2020 Highlights
Decorations for Corridor Roads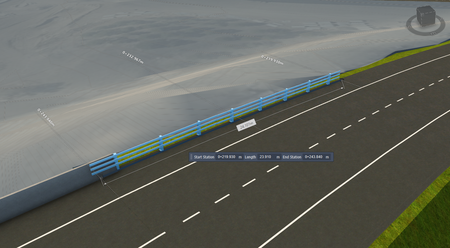 Added Road Decorations for corridor roads brought in from Civil 3D.
Lane Markings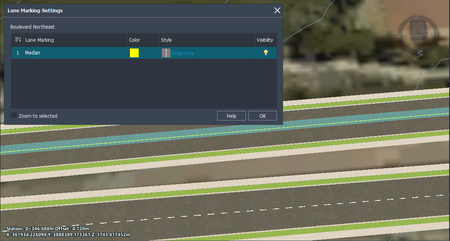 You can modify Lane Markings to component roads.
ArcGIS Data Integration
Fixed an issue where a layer could not be published after update service name.
Fixed an issue where an ArcGIS layer could not be imported successfully with the clip-to-model option selected.
Fixed an issue where a layer published to ArcGIS Enterprise portal could not be opened directly.
Bridges and Tunnels
Fixed an issue with toggle behavior in parametric decorations that caused attribute toggles to be stuck on.
Fixed an issue where after adding cross frames to a bridge, the selection of bridge objects disappeared.
Fixed an issue where running refined bridge analysis a second time while having an analysis PDF report open did not give feedback to the user.
Fixed an issue so the road gizmo is now active when a new bridge is drawn.
Civil 3D DWG Import
Fixed an issue where road profiles which contained parabola with almost identical in and out grade were unable to be imported.
Fixed an issue of parabolas in road profiles getting removed when there were free parabolas that had almost identical in and out grade.
Component Roads
Fixed an issue that could occur if a road was selected when all data sources were deleted in the Data Sources panel.
Fixed an issue where road options at IMX tab and DWG tab of the Configure Road dialog box were not translated.
Improved the performance of adding roads in models containing tunnels.
Fixed an issue with the component decoration split tool that occurred when multiple clicks happened while the model was refreshing.
Fixed an issue in which only part of the lane marking was seletable if the road assembly was added in componnet roads.
Fixed an issue of incorrect geometry of alignment when importing anchored floating curves in IMX.
Fixed an issue when importing roads from Civil 3D from either DWG or IMX that caused some vertical curves to be discarded so that they showed as just PVIs in the Profile View.
Coordinate Systems
Fixed an issue with the "Which coordinate system should I choose?" link in the New Model dialog that caused the link to always go to the English page regardless of the Language setting.
Create, Edit, Delete Core Feature
Fixed an issue where the Content picker was shown when starting a Draw Tool from the toolbar, such as drawing a conceptual road or water area.
Fixed an issue that occurred when rapidly editing features.
Cross Sections
Fixed an issue that caused Right of Ways not to be displayed in the Cross Section View in circular curves and other tangent sections.
Fixed an issue with Cross Section View buttons that would cause difficulty switching between views.
Drainage Design
Fixed an issue in which the IDF icon was not shown in Size Drainage Network dialog.
General
The Open Model dialog changes to the correct size and the text in the dialog and also should adjust according to the Hi DPI scaling settings.
Home
Fixed an untranslated string on the new Home page.
Fixed the date and time format on the Recent tab of the new Home so that it responds to the Region settings of the operating system.
Model Builder
Fixed an issue when accessing Model Builder in mainland China.
Fixed an issue when importing a SHP file in Model Builder. If the polygon is not imported at the expected location, re-export the file from Civil 3D and use the MAPEXPORT option to perform coordinate conversion to LL84.
Selection
Fixed an issue where the component highlighting and selection could highlight or select the incorrect component.
Site Design
Fixed an issue that caused the triad gizmo and bounding box to not be enabled in 2021.1.
Stack
Fixed an issue in which the right edge of the Stack was cropped and information was illegible.
Stylization
Fixed a thumbnail image in the DrawStylePicker.
Watershed & Streams
Fixed an issue in which the selected station range was not shown in watershed anlaysis.
General
Fixed when selecting a Bridge and keeping it selected led to the memory increasing until InfraWorks ran out of memory or the user unselected the bridge.
Avoided a crash when the configure dialog box was opened for an Imported Civil drawing and InfraWorks model was synced from BIM 360.
Added more checks for consistency on importing corridors to avoid failures.
Fixed a failure to render bridge girders on corridors comprised of multiple assemblies.
Fixed failures to generate Parametric 3D due to some Python scripts issues.
Fixed foundation elevations that were incorrect after Shift-F5 in certain cases.
Updated InfraWorks to use the latest SQLite version: 3.32.3.
Fixed some terrain issues that would prevent the user from exporting a tunnel to IMX.
Plugins
Avoided errors and skip cutting terrain when a tunnel had no meshes.
Fixed excessive curve smoothing in Revit for variable width tunnels.
Avoided cutting failures when generating decks or girders.
Ensured UI strings are localized.
Autodesk InfraWorks
is the geospatial and engineering BIM platform that enables parametric model-based planning and design of civil infrastructure in the context of the real-world. With InfraWorks users can more easily evaluate and convey design intent within the context of a project's surroundings; data can be aggregated from various sources and design decisions made earlier in the project lifecycle;~ then, the design model can be moved downstream to AutoCAD Civil 3D for detailed design and construction documentation with minimal loss of critical information – improving decision making, project stakeholder buy-in, and saving both time and money.
The latest release of InfraWorks now uses the power and precision of Civil 3D for corridor models. These upgrades include:
- Importing all calculated design elements or select elements of the Civil 3D corridor intoInfraWorks directly
- Define the mapping of materials to apply to the corridor shapes
- Placing corridors into their contextual environment
- Seamless updates to the road in InfraWorks when the Civil 3D corridor changes
- And more downstream benefit
What's New in InfraWorks (2021): Corridor Enhancements
Autodesk
helps people imagine, design and create a better world. Everyone—from design professionals, engineers and architects to digital artists, students and hobbyists—uses Autodesk software to unlock their creativity and solve important challenges.
Product:
Autodesk InfraWorks
Version:
2021.2.1
Supported Architectures:
x64
Website Home Page :
www.autodesk.com
Language:
multilanguage
System Requirements:
PC *
Size:
2.2 Gb
System requirements for Autodesk InfraWorks 2021

Operating System Microsoft Windows 10 64-bit Enterprise or Pro
Processor Dual-core Intel Core 2 or equivalent AMD processor (Quad-core Intel Core i7, 6-core Intel Xeon, or better processor highly recommended); to use the ray traced rendering functionality, CPU must support SSE 4.1
Memory 8 GB RAM minimum (16+ GB recommended)
Display Resolution 1,280 x 720 or greater (1,440 x 900+ recommended)
Display Card Any DirectX 10.1 capable graphics card with 2 GB (or more) graphics memory, supporting 8x Antialiasing (8x AA), such as NVIDIA Quadro 5000 or 6000 for desktops and NVIDIA Quadro 2000M or GeForce GT 650M for laptops; (Any DirectX 10.1 capable graphics card with 1 GB graphics memory supporting 2x antialiasing (2x AA) minimum)
Disk Space 16 GB
Pointing Device MS-Mouse compliant
Media DVD or download file
Browser Google Chrome (latest), or Firefox (latest)
.NET Framework Internet connection for full online help and learning materials accessibility and Autodesk Cloud services
Please visit my blog
Added by 3% of the overall size of the archive of information for the restoration

No mirrors please