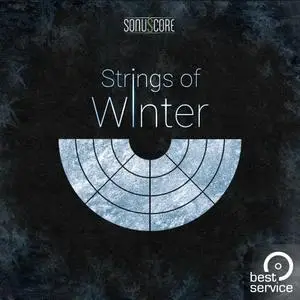 Best Service & Sonuscore - TO - Strings of Winter v1.0.1 KONTAKT UPDATE | 25 Mb
Arctic plains. Shimmering glaciers. Far-reaching steppes. A one-of-a-kind instrument that perfectly captures the spirit of these rough, untamed and raw landscapes. An absolutely honest and atypical new sound that portrays scenes of fragile, cold isolation as perfectly as icy and unbridled power. Strings of Winter is here with 60 unheard and pristine articulations performed by a 41-piece European string orchestra and the wonderful and unique Mongolian State Morin Khuur Ensemble.
"TO Strings of Winter" is an independent instrument and revolutionary Kontakt Player library based on the groundbreaking Ensemble Engine developed specifically for "The Orchestra", which lets you turn your ideas into music quickly and easily.
"TO Strings of Winter" introduces a highly requested, new feature, MIDI Export! Simply drag and drop the MIDI from the Engine right into your favourite DAW. You can change notes and rhythms afterwards for every exported clip. Thus making it a breeze to create variations and emotional changes, without overwriting the arpeggiators and envelopes. You can also use those MIDI files with different instruments - even from other sample libraries.

European String Orchestra
A 41-piece string orchestra split into 5 sections performed a number of detailed and extended techniques for Strings Of Winter (e.g. Trills, Sul Ponticello, Harmonics, Col Legno, Bartók Pizzicato). The resonance and raw complexity of these new articulations was captured in the classic room of Studio 22 in Budapest. All sections were recorded in their traditional seating position.
Mongolian State Morin Khuur Ensemble
The Morin Khuur is the national instrument in Mongolia, also called "horse head fiddle". The traditional instrument has two strings made of horse hair and is played with a bow also strung with horse hair. This gives the instrument a delicate and airy timbre. The Morin Khuur Ensemble was recorded at White Arch Studios in Ulan Bator with an orchestra of 15 players split into high and low ensemble.
The articulations
Strings of Winter contains 60 unique articulations spread over 7 different sections and additionally 4 different instruments with String Ensemble FX.
The Core - The Ensemble Engine
Strings of Winter features the same powerful engine as our critically acclaimed instrument "The Orchestra". This Engine works through a number of independent arpeggiators and velocity envelopes, heavily inspired by our Sonuscore Origins-Series.
Create pulsating rhythms and even inspiring full arrangements from any combination of notes. All of this without relying on prerecorded phrases – you have the full control. It will work, no matter what chord or note you play. With minimum loading times, a vast amount of presets provides you with full ensemble colors right out of the box.
- Independent arpeggiators and velocity envelopes create vivid and powerful orchestral colors
- Load up to 5 different instruments in independent slots and play them together
- Every slot can be assigned one of five different modules
Take full control over the ensemble
On the Engine page you can access all individual controls for each of the five instrument modules. Short notes can be arranged with the arpeggiators, while sustained notes can be shaped with the velocity envelope. Create the orchestral colors as you need them and let the magic happen.
Full library here