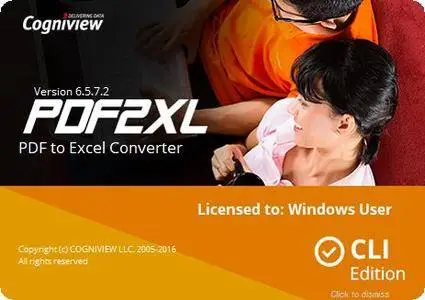 CogniView PDF2XL CLI 6.5.7.2 Multilingual | 17.7 MB
PDF2XL Command line Interface edition is designed to help you automate your work process so you can focus on delivering results! Spending a lot of time on converting data from PDF to Excel using the same layout? With PDF2XL CLI edition, you do not need to invoke the application, open the required PDF, load the layout and then click a button to convert the data to Excel: just use PDF2XL's simple and effective Command-Line Interface to automate the conversion. Is batch PDF to Excel conversion really that easy?
Super simple command line interface.
If you know how to create a simple command-line statement, you have all the computer skills you need to use PDF2XL CLI.
Full behind the scenes control for any conversion setting you need.
PDF2XL Command Line Interface allows control over a lot of the application's settings, and can even be used to run it in Silent Mode, in which the application will load a file and a layout and will convert it into an indicated target format without displaying the user interface.
Start using PDF2XLI CLI in minutes with our simple tutorials.
We have prepared a few samples for you, so you can learn more about the usage of the PDF2XL Command Line Interface.
Feeling savvy? There's plenty things you can automate with Command Line control.
You can also look up the different CLI commands that help you automate the work process.
Convert a 100-page PDF price list into editable Excel tables in minutes
- Extract PDF data at a click
- Batch convert multiple documents
- Convert up to 500 pages/minute
Analyze financial statements – convert them to Excel and look at the data your way
- Ideal for conversion automation
- Create reusable layouts
- Split, Merge and Modify tables during conversion
Convert non-tabular data, such as contact lists, into organized Excel tables
- Convert invoices, receipts, business cards and more
- Share document layouts
- Organize any non-tabular data into tables
Supplier inventory lists turn into data that can be tracked, compared and shared
- Open Office, CSV, and additional output formats
- Define layouts using complete PDF2XL UI
- Pre-conversion preview
The PDF2XL product family is supported on the following operating systems:
Desktops: Windows® XP (all) SP2+, Windows® Vista (all) SP1+, Windows® 7 (all), Windows® 8 (all) (x64 editions supported), Windows 10 (all) Servers: Windows® 2000 Pro/Server SP4, Windows® Server 2003 (all), Windows® Server 2008 (all), Windows® Server 2008 R2, Windows Server 2012 (Terminal Server and Citrix XenApp/Access Essentials configurations supported) Note that x64 operating systems are fully supported, but printing into PDF2XL Enterprise's Cogniview Printer in ia64 (Itanium) is not.
PDF2XL has the following requirements for operation:
- Processor: 1 gigahertz (GHz) or faster processor
- RAM: 256 MB system memory (1 GB recommended)
- Display: 800×600 screen resolution (1024×768 recommended)
- Installer size: 25 MB
- Installation footprint: 37 MB
- Available space: Up to 100 MB of available hard drive space
- Microsoft Excel/Word 97 or newer* (required for Microsoft Office integrated features such as conversion to Excel).
Home Page -
https://www.cogniview.com/