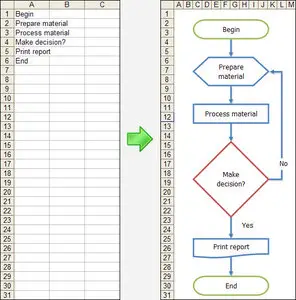 BreezeTree Software FlowBreeze v2.6.14 Multilingual | 4.6 MB
Wouldn't it be great if there were a way you could create flow charts that was as effortless as typing? A flow chart tool that picks the flowchart symbol for you based on the words you type? A flow chart tool that adds connectors between the flowchart symbols for you? A flow chart tool that integrates seamlessly into Microsoft Office, so anyone can edit and maintain flowcharts? Well there is. It's called FlowBreeze. It won't cost you a bundle of cash and only takes minutes to learn.
FlowBreeze Standard Flowchart Software is a Microsoft® Excel® add-in that automates the flowcharting process by converting your text into flowcharts. FlowBreeze lets you create flowcharts by just typing. You simply type in each flowchart step, and press <Enter>. The text is replaced by a flow chart symbol. Formatting is applied, symbols are aligned, and a connector is added automatically.
Save Time
FlowBreeze is the perfect tool for creating flowcharts because it makes flowcharting easy. You will benefit from many handy features that save you time and make flowcharting painless:
Create flowcharts just by typing.
Pre-layout flowchart content on a spreadsheet.
Convert existing text or documents (e.g. Word) into a flow chart with the Text-To-Flowchart Wizard.
Automatically add Start and End Terminator symbols.
Assign keywords to generate specific flowchart symbols.
Make Flowcharting a Painless Process
Apply formatting styles in a single click.
Generate a flowchart symbol key at the click of a button.
Automatically add connectors from the previous symbol.
Create uniformly sized shapes.
Design custom flowchart templates or use one of the many pre-made templates.
(Including cross-functional swim lanes, title blocks, opportunity charts, deployment charts, DMAIC diagrams, SIPOC diagrams, PDCA diagrams, and many more flowchart templates.)
Be Creative
Style your flowchart symbols with up to 84 built-in formats.
Style your connectors with 21 built-in formats
Includes 124 available symbols, including flowchart symbols, block arrows, callouts and more.
Add straight, elbow, or curved connectors.
Export flow charts as 6 picture formats (PNG, BMP, JPG, GIF, WMF, TIF).
Collaborate
Copy and paste flowcharts directly into Word or PowerPoint.
All flowcharts are editable by anyone using the built-in Microsoft Office drawing tools.
Save flowcharts as Excel files.
Anyone with Excel can view, edit, or maintain the flowcharts.
Empower Your Team
Easy to use and easy to learn.
Familiar Microsoft Excel working environment.
Users can get started at the click of a button.
Helpful Getting Started guide makes flowcharting simple to learn.
Combine Data & Diagrams
Include process data on the same sheets as your flowcharts.
Use FlowBreeze's Extract Text tool to easily tabulate process metrics.
Exploit Excel's powerful functions to merge flowcharts with process data analysis.
Integrate graphs, data, and process flowcharts in the same drawing.
Create multi-level process flow diagrams on separate sheets.
Edit Flowcharts Easily
Select multiple shapes by symbol type.
Toggle between shapes via the Tab key.
Move symbols with the keyboard arrow keys.
Connectors stay attached when the shapes are moved.
Insert or delete cells, rows, or columns for fast re-positioning.
Automate Many Flowcharting Steps
Create Decision symbols (diamonds) by typing a '?'.
Create On-Page Connector references by typing all caps (e.g., A, A1, BB, etc.).
Automatically add branch labels (e.g., Yes/No) to Decisions.
Create Off-Page Connector references by typing numbers.
Create prefixes that generate specified symbol types.
Insert a flow line connector by typing "FL".
Add comments using callout symbols.
Insert a text box label by typing "LBL".
Enforce Good Flowcharting Style Effortlessly
Automatically align shapes as they are created.
Preset all your formatting.
Auto-capitalize the first letter of every entry.
Enable entry "guidelines" to ensure proper symbol alignment.
Snap to grid and snap to shape for easy positioning.
Customize Your Drawing Canvas
Span multiple pages in a single flowchart canvas (and display page breaks while flowcharting).
Preset page size, margins and orientation.
Customize the list of your favorite symbols.
Toggle gridlines on or off.
Automatic cursor positioning for top-to-bottom or left-to-right layouts.
Friendly Flowcharting Environment
Eliminate most (wrist-aching!) drag and drop steps.
Insert pictures in symbols or directly on the drawing.
Isolate flowcharting to a single worksheet without interfering with your other work.
Stop and restart flowcharting at any time.
Lets you generate a flowchart on the fly by copying the process steps from Word.
Homepage:
http://www.breezetree.com/flowcharting-software/