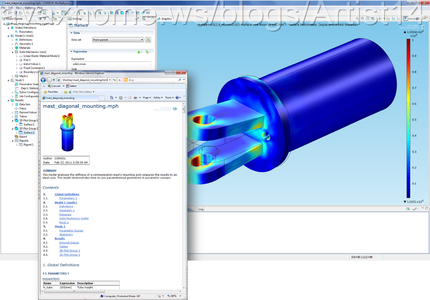 COMSOL Multiphysics v4.2 x64 | 413 MB
The COMSOL Multiphysics simulation software environment facilitates all steps in the modeling process − defining your geometry, meshing, specifying your physics, solving, and then visualizing your results. Model set-up is quick, thanks to a number of predefined physics interfaces for applications ranging from fluid flow and heat transfer to structural mechanics and electromagnetic analyses. Material properties, source terms and boundary conditions can all be arbitrary functions of the dependent variables. Predefined multiphysics-application templates solve many common problem types. You also have the option of choosing different physics and defining the interdependencies yourself. Or you can specify your own partial differential equations (PDEs) and link them with other equations and physics.
COMSOL 4.2 Release Highlights
COMSOL Multiphysics 4.2 represents a significant expansion of the software's applications, features, and functionality. Version 4.2 empowers current users to do more with their simulation environments, while new industries will now be able to leverage the innovation of multiphysics simulation. With this release, COMSOL continues to deliver on its promise to supply the science and engineering markets with the state-of-the-art simulation products for an expanding set of applications.
Microfluidics Module brings easy-to-use tools for the study of microfluidic devices and rarefied gas flows.
Geomechanics Module enables multiphysics modeling in geotechnical applications such as tunnels.
Electrodeposition Module brings the power of COMSOL to electrochemical processes for chrome plating.
LiveLink for AutoCAD makes COMSOL Multiphysics simulations in 3D available for AutoCAD users.
LiveLink for SpaceClaim brings the fusion of direct modeling and multiphysics simulation in a tightly integrated environment.
One Window Interface for the LiveLink for SolidWorks allows SolidWorks user to stay inside of the SolidWorks environment and work synchronously with COMSOL Multiphysics.
Fast multiphysics assembly brings faster and more memory efficient computations on virtually any type of computer platform, from laptop to cluster.
Report Generator creates HTML reports for models of varying degrees of detail, from brief to complete.
Compressible High-Mach Number Flow for designing nozzles, pipe networks, and valves, and for modeling aerodynamic phenomena.
Virtual Geometry tools allow for modification of CAD models without changing the underlying surface curvature and enable very efficient meshing.
Time-dependent adaptive meshing automatically resolves sharp diffusion fronts in two-phase flow simulations, bringing faster and more accurate simulations.
Homepage:
http://www.comsol.com/