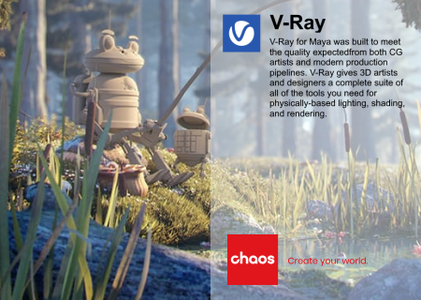 Chaos Group V-Ray 5 Update 2.2 (5.20.02) for Autodesk Maya | 2.1 Gb
Chaos Group, leading provider of solutions rendered modern for the media industry, entertainment and design, has released an update VRay 5.20.02 for Maya 2018-2023 is one of those programs the most popular graphics to display graphic images, three-dimensional space.(the detailed calculation, simulation based on the nature and Darren in fact).
V-Ray 5, update 2.2 (Build 5.20.02) Official release - Date: Apr 20, 2022
New features

V-Ray
- Adaptive bucket splitting;
- Maya 2023 support;
- Added a transparency_level output to Sampler Info node and TexSampler plug-in;
V-Ray GPU
- Objects Receive Shadows attribute support;
Bifrost/USD
- Support for rendering Bifrost USD graphs;
USD
- Support for importing V-Ray materials from USD to Maya nodes;
- Support for importing cameras from USD to Maya nodes;
- UI for exporting V-Ray materials to USD in the V-Ray>Tools menu;
- vrayExportUsdMaterials command for exporting V-Ray materials & displacement directly to USD;
- Support for in-memory only USD stages coming from plug-ins;
- Support for VRayLightMesh;
- Support for UsdGeomPoints particles;
- Support for USD BasisCurves hair;
- Support for USD Skel;
- Support for VDBs in USD;
- Initial support for rendering USDPreviewSurface node in Maya;
- MayaUSD 0.15 and 0.16 support;
USD/VRayPhysicalCamera
- Support for V-Ray physical cameras from Maya to USD;
Ornatrix
- Support for "user color attributes" from Ornatrix;
Denoiser
- Added an option to not denoise alpha;
Chaos Vantage
- Vantage Live-Link;

Modified features

VFB
- Made ON/OFF state in buttons in VFB2 visible;
USD
- Fixed certain lights in USD not rendering correctly;
V-Ray
- Automatically add Render Setup layer override for the enabled attribute of toggled Render Elements;
- More robust IPR change detection while mouse dragging;

Bug fixes

V-Ray
- Fixed crash with reflection exclude list in VRayObjectProperties;
- Fixed textures not updating in IPR when changing file path;
- Fixed loading a .tx textures with UDIM crashing Maya;
- Fixed illegible symbols in memory tracking log on Linux;
- Fixed a server-side distributed rendering crash involving Light Mix;
- Fixed an issue with standalone installation preventing starting a distributed rendering server on MacOS;
- Fixed a rare crash when using Alembic proxies in IPR;
USD
- Fixed memory leak when rendering USD
- Fixed error with MDL material;
- Fixed crash with instanced transforms in USD;
- Fixed wrong import of USDPreviewSurface;
VRayTriplanar/VRayProxy
- Fixed wrong local object projection on instanced proxies;
VRayToonMtl
- Fixed difference between IPR and Production rendering;
Cosmos
- Fixed drag & drop asset position on MacOS HiDPI displays;
Installer
- Fixed standalone installation incorrectly proceeding while Maya is running;
Texture Baking
- Fixed baking of more than one object through the V-Ray Baking Options;
VRayScene
- Fixed unnecessary "Preview for Node" error messages;
VFB
- Fixed an issue with lens effects sometimes being computed wrong;
V-Ray
is a complete interactive lighting, shading and rendering toolkit, giving you full control over the entire creative process, from real-time look development to the final frame.
V-Ray for Maya
is an Academy Award-winning and production-proven renderer for Autodesk Maya. Known for its versatility and ability to handle any type of project it is considered an industry-standard in visual effects, 3D animation, design and advertising. With CPU, GPU, and distributed rendering options, V-Ray is the only renderer on the market that can help customers future-proof their hardware investment. V-Ray's extensible customization options and powerful lighting, look-development and quick post-processing features save users time, let them go beyond just rendering and help them explore their creative ideas without limits.
New
V-Ray 5
introduces composite renders, a new function to mix Light Path Expressions, an interactive rendering tool in a new V-Ray frame buffer, texture randomizing for seamless tiling, and an impressive speed increase for new V-Ray Proxy.
V-Ray 5 for Maya — Now Available
Chaos Group
is a worldwide leader in computer graphics technology, helping artists and designers create photoreal imagery and animation for design, television, and feature films. Chaos Group specializes in physically-based rendering and simulation software used daily by top design studios, architectural firms, advertising agencies, and visual effects companies around the globe. Today, the company's research and development in cloud rendering, material scanning, and virtual reality is shaping the future of creative storytelling and digital design. Founded in 1997, Chaos Group is privately owned with offices in Sofia, Los Angeles, Baltimore, Seoul, and Tokyo.
Product:
Chaos Group V-Ray
Version:
5 Update 2.2 (5.20.02) for Autodesk Maya
Supported Architectures:
x64
Website Home Page :
www.chaosgroup.com
Languages Supported:
english
System Requirements:
Windows *
Software Prerequisites:
Autodesk Maya 2018-2023
Size:
2.1 Gb
Please visit my blog
Added by 3% of the overall size of the archive of information for the restoration

No mirrors please