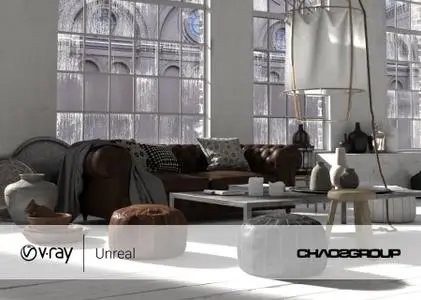 Chaos Group V-Ray Next, Update 2.7 (build 4.30.22) for Unreal | 204.6 mb
Chaos Group has launched V-Ray Next, Update 2.7 (build 4.30.22) for Unreal, the new version of its V-Ray renderer for Unreal Engine. Apart from fixes in the detected issues, this version hosts a couple of noteworthy enhancements as well.
V-Ray Next for Unreal, update 2.7 Official Release - Date: May, 2020
This release improves the light baking workflow, improves native Unreal features support, and introduces Cryptomatte and V-Ray Light Meshes.
- Added support for Unreal engine 4.25
- Added export Light bake option that generates .vrscene files for rendering light bake atlases in V-Ray standalone
- Added Process Atlases functionality to import lightmaps from atlases generated outside of Unreal
- Added support for Cryptomatte render element
- Added support for V-Ray Mesh Lights
- Added support for Unreal Skylight actor
- Added support for packaging V-Ray materials for mobile platforms
- Added initial support for Unreal Landscape actor
- Added support for Static and Dynamic Shadow casting for Actors
- Improved .vrscene import - Imported static meshes have assigned materials
- Fixed crash when aborting light bake
- Fixed error with hidden Brush geometry
- Closing the VFB no longer aborts render or lighbake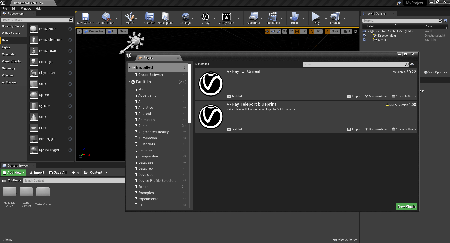 The V-Ray Next render engine inside Unreal
is a game changer, offering offline and real-time rendering for a variety of 3D projects, including architecture, animation, film, and product design.
With support for 3ds Max, Revit, and SketchUp Pro (not to mention a wide range of CAD formats), Unreal Studio is an ideal partner to V-Ray for Unreal. Its Datasmith feature set not only provides import capabilities but also data optimization tools, which can be used in parallel with V-Ray for Unreal. Along with Datasmith, it offers one-to-one ticketed support, targeted learning, and industry-relevant templates and assets.
Chaos Group.
is a worldwide leader in computer graphics technology, helping artists and designers create photoreal imagery and animation for design, television, and feature films. Chaos Group specializes in physically-based rendering and simulation software used daily by top design studios, architectural firms, advertising agencies, and visual effects companies around the globe. Today, the company's research and development in cloud rendering, material scanning, and virtual reality is shaping the future of creative storytelling and digital design. Founded in 1997, Chaos Group is privately owned with offices in Sofia, Los Angeles, Baltimore, Seoul, and Tokyo.
Product:
Chaos Group V-Ray
Version:
Next Update 2.7 (build 4.30.22)
Supported Architectures:
x64
Website Home Page :
www.chaosgroup.com
Language:
english
System Requirements:
PC *
Supported Operating Systems:
*
Software Prerequisites:
*
Size:
204.6 mb
Please make sure that your system fulfills these requirements before installing V-Ray. Note that V-Ray is only supported for 64-bit operating systems.

Processor Intel or AMD 64-bit processor with SSE 4.2 support
RAM 8 GB RAM and 8 GB swap minimum
GPU NVIDIA GPU with compute capability 5.2 with NVIDIA Display driver 436.30 or higher. Non-supported GPU hardware fallbacks to CPU rendering
Unreal Engine Editor version 4.23.1; 4.24.3; 4.25.0
Supported Operating Systems Windows 7 SP1 64-bit, Windows 8 & 8.1 x64, Windows 10
Please make sure you have the appropriate version of Visual Studio for project packaging in Unreal.
Minimum Visual Studio 2017
Please visit my blog
Added by 3% of the overall size of the archive of information for the restoration

No mirrors please