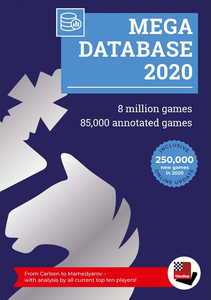 ChessBase Mega Database 2020 Updates 32-33 | 1.3 MB
The ChessBase Mega Database 2020 is the premiere chess database with over eight million games from 1560 to 2020 in high quality. Packing more than 85,000 annotated games, Mega 2020 contains the world's largest collection of high-class analysed games. Train like a pro! Prepare for your opponents with ChessBase and the Mega Database 2020. Let grandmasters explain how to best handle your favorite variations, improve your repertoire and much more.
Navigating the database is easier than ever: a new menu makes it easy to prepare for your games, to search for tournaments, to find annotated games or to access all the games in the database. One improvement: all World Championship matches and a lot of top tournaments can be directly accessed via the menu – with tables, all games, and texts about the tournaments which give you additional information and insights.
Preparing for your next opponent is easy: with the Mega Database it just takes seconds to find the games of your next opponent! The repertoire overview shows you which lines your opponent likes to play and statistics reveal weaknesses in his repertoire. The reference search allows you to find critical opening positions easily: put the position on the board and click the reference-button. You can filter your search, e.g. to look for annotated games to deepen your understanding.
The Mega Database 2020 at a glance:
New design, more comfort! Direct access to all World Championship matches and selected top tournaments
More than 8 million games
More than 85,000 annotated games – the world's largest collection of games with top-class annotations
Update service with about 250,000 new games until the end of 2020 (weekly updates with about 5,000 new games every week)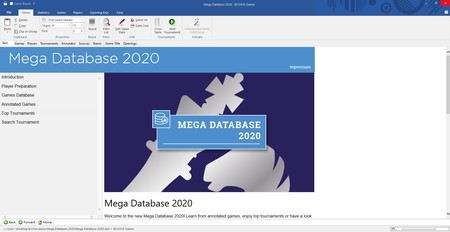 ChessBase and Mega Database 2020 with previous updates are here:
https://avxhm.se/software/ChessBase.15.21.html