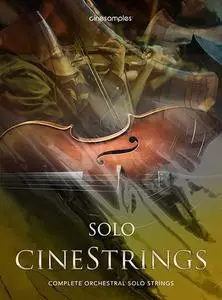 Cinesamples CineStrings Solo v1.3 KONTAKT | 46.4 Gb
CineStrings SOLO is a deeply sampled solo strings virtual instrument recorded at the world famous MGM Scoring Stage at Sony Pictures Studios in Los Angeles. The patches contain some of the most realistic True Legato ever created for soloistic string writing.
Cinestrings SOLO, as with our other CineSymphony series libraries, has a very intuitive and easy to use graphic interface with quickly selectable presets that can help you write, program and mix. You can tailor these settings to your specific practices. The Mapping page can quickly set you up for velocity, key-switching or MIDI continuous controller (CC) articulation switching. Our Mixer page allows you to quickly access our Full mix or the three other microphone positions. The Settings page allows for advanced control over each of these patches for sound design, programming and other useful features.
CineStrings SOLO's True Legato patches feature a brand new adaptive legato engine, built from the ground up. This new engine features extra interface controls, allowing you to tailor the legato response to your own playing style. The legato script in CineStrings SOLO is designed to respond musically to your performance. The engine detects your playing speed and intelligently adjusts the interval speed to match. This means you can play slow, expressive lines and fast runs in a single performance, without touching the speed dial. Additionally, the intensity parameter responds to velocity.
What is "True Legato"? True Legato means that we sampled all of the intervalic leaps throughout the ranges, both upwards and downwards, for each instrument. When you play a True Legato patch, it instantly analyzes the intervals you play, then plays the appropriate transitional leap between the notes. The result is a smooth and realistic legato performance.