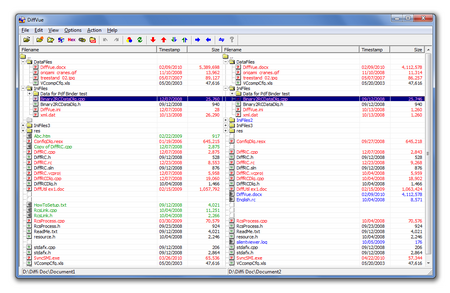 DiffVue 4.7.5.203 | 31.3 MB
DiffVue is a folder and file compare/differencing utility. This contains 7 main applications DiffVue, DiffFTP, DiffEditor, FullVue, DiffSearch, DiffVueUpdate and HexCompare and they are all Unicode applications.
You can consider DiffVue as a mini Windows Explorer, plus you can display up to two folders in 2 views. Although DiffEditor and FullVue can be launched from Windows, they are tightly coupled with DiffVue, and called from DiffVue.
- Does delete / copy / rename file(s) & folder(s) and undo the previous file operations.
- Supports full drag-n-drop to/from Windows Explorer.
- Compares two text files whether Unicode or ASCII, by launching DiffEditor.
- Synchronizes two folders.
- Creates a single PDF file using existing file or folder.
- Provides the enhanced search tool including regular expression by launching DiffSearch.
- Displays the contents of the most popular document formats by launching FullVue.
- Displays two binary files in hexadecimal format by launching HexCompare.
- Provides set of useful tools for resource files to make localization process simple.
OS :
Win XP/2000/Vista/Win 7
Language
: English
Home Page
-
http://www.diffvue.com/
Download link:

filesonic
http://www.filesonic.com/file/1649857601/DiffVue.v4.7.5.203-LAXiTY.rar


My News

No more mirror please!