ESRI ArcGIS Desktop 10.7.1 with Data Interoperability | 2.2 Gb
ESRI is pleased to announce the availability of ArcGIS Desktop 10.7.1. This release is primarily a quality improvement release, and bug fixes that improve the 10.7 release.
3D Analyst toolbox
The following is new in the 3D Analyst toolbox at 10.7.1:

Raster Surface toolset
- The Contour and Contour List tools now support multicore processing with the Parallel Processing Factor environment.

Cartography toolbox

The Simplify Line and Simplify Polygon tools have a new simplification algorithm, Retain effective areas (Visvalingam-Whyatt). This algorithm works by identifying triangles of effective area for each vertex to guide the removal of vertices to simplify the line while retaining as much character as possible.

Multidimension toolbox
- A new parameter, Compression Level, has been added to the Raster To NetCDF tool to reduce the size of the output netCDF file.

Spatial Analyst toolbox
The following is new in the Spatial Analyst toolbox at 10.7.1:

Distance toolset
- The new Euclidean Back Direction tool calculates the direction to the neighboring cell along the shortest path back to the closest source, while avoiding barriers.
- The Euclidean Allocation, Euclidean Direction, and Euclidean Distance tools have two new parameters. These tools now support calculating direction around barriers. The new parameters consist of input barriers and output back direction raster.
- The Cost Path As Polyline tool has been expanded to use the new back direction raster, being output from the Euclidean tools, as input, so that paths can be created around barriers.
Neighborhood toolset
- The Focal Statistics tool has a new Statistics Type of Percentile. With this option selected, a new parameter Percentile Value is available, which allows you to specify the which percentile you wish to calculate. The value range is from 0 to 100, with a default of 90. The Median statistic option now supports floating point input rasters, and for increased accuracy, the output will always be floating point.
Surface toolset
- The Contour and Contour List tools now support multicore processing with the Parallel Processing Factor environment.

Data (10.7.1)
The following functionality changes have been made to data management in ArcMap 10.7.1:

Databases and geodatabases

- Log file tables for geodatabases in Oracle now use Oracle global temporary tables. The Configure Geodatabase Log File Tables geoprocessing tool no longer alters the log file configuration for geodatabases (10.7.1.2.4 and subsequent releases) in Oracle.
- ArcGIS 10.7.1 includes support for PostgreSQL 11. To create a geodatabase or install the ST_Geometry type in a PostgreSQL 11 database, download the PostgreSQL 11 version of the ST_Geometry library file from My Esri.
- Starting with 10.7.1.2.4 release geodatabases, PostgreSQL 9.5.x and PostGIS 2.2 are no longer supported. Upgrade your database to a supported version before creating or upgrading a geodatabase.
- ArcGIS 10.7.x is the final release to support IBM Netezza Data Warehouse Appliance.
For information on bugs that were fixed, see the
10.7.1 issues addressed lists.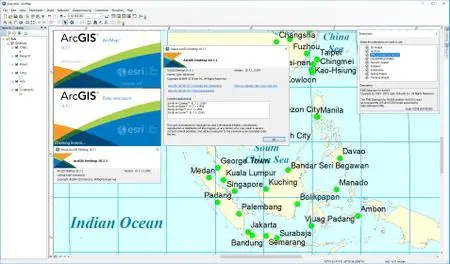 ArcGIS
is a platform for organizations to create, manage, share, and analyze spatial data. It consists of server components, mobile and desktop applications, and developer tools. This platform can be deployed on-premises or in the cloud (Amazon, Azure) with ArcGIS Enterprise, or used via ArcGIS Online which is hosted and managed by Esri.
ArcGIS Desktop
is the key to realizing the advantage of location awareness. Collect and manage data, create professional maps, perform traditional and advanced spatial analysis, and solve real problems. Make a difference and add tangible value for your organization, your community, and the world.
ArcGIS Pro and ArcMap are part of ArcGIS Desktop suite and allow users to publish and manage data and maps in conjunction with ArcGIS Online and ArcGIS Enterprise. These desktop tools also excel at detailed and sophisticated analysis and can be extended and scripted with various tools.
ArcMap vs ArcGIS Pro - Comparing these two GIS applications from Esri
Esri
is the global market leader in geographic information system (GIS) technology, location intelligence, mapping software, and spatial analytics. Esri software is deployed in more than 350,000 organizations and 75 percent of Fortune 500 companies. The world's largest cities, most national governments, and more than 7,000 colleges and universities use Esri technology to improve operational and business results. Since 1969, Esri has helped customers unlock the full potential of data with its pioneering commitment to geospatial information technology. Esri builds ArcGIS, the world's most powerful geospatial cloud platform, and engineers the most advanced solutions for digital transformation, the Internet of Things (IoT), and advanced analytics.
Product:
ESRI ArcGIS Desktop
Version:
10.7.1 with Data Interoperability
Supported Architectures:
x64
Website Home Page :
https://desktop.arcgis.com/
Language:
english
System Requirements:
PC *
Supported Operating Systems:
*
Size:
2.2 Gb
Supported operating systems

Windows 10 Home, Pro and Enterprise (64 bit [EM64T])
Windows 8.1 Basic, Pro, and Enterprise (32 bit and 64 bit [EM64T])
Windows Server 2019 Standard and Datacenter (64 bit [EM64T])
Windows Server 2016 Standard and Datacenter (64 bit [EM64T])
Windows Server 2012 R2 Standard and Datacenter (64 bit [EM64T])
Windows Server 2012 Standard and Datacenter (64 bit [EM64T])

Hardware requirements

CPU speed: 2.2 GHz minimum; Hyper-threading (HHT) or Multi-core recommended
Platform: x86 or x64 with SSE2 extensions
Memory/RAM:
Minimum: 4 GB
Recommended: 8 GB or higher
ArcGlobe may require 8 GB minimum when used.
Display properties: 24-bit color depth
Screen resolution: 1024x768 recommended minimum at normal size (96 dpi)
Disk space:
Minimum: 4 GB
Recommended: 6 GB or higher
ArcGlobe creates cache files when used. If using ArcGlobe, additional disk space may be required.
Video/Graphics adapter:
64 MB RAM minimum; 256 MB RAM or higher recommended. NVIDIA, ATI, and Intel chipsets supported.
24-bit capable graphics accelerator
OpenGL version 2.0 runtime minimum is required, and Shader Model 3.0 or higher is recommended.
Be sure to use the latest available drivers
Please visit my blog
Added by 3% of the overall size of the archive of information for the restoration

No mirrors please