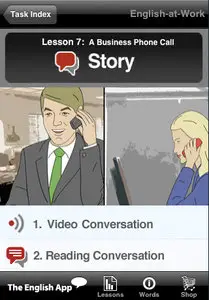 English At Work v1.0 | Software | iPhone | 32MB
An excellent app for improving your English workplace skills. (English as a Second or Foreign Language.)
English at Work is a fun English course to help second language English students practice and improve their use of workplace English and Business English. You will learn over 150 useful words, phrases, idioms and expressions for use in your office or workplace. You'll also develop your listening skills, improve your telephone skills, email skills, and conversation skills, and much more. This course includes 14 complete English-at-Work lessons, each with the following tasks:
1. English Vocabulary
Check your knowledge of key vocabulary from the lesson.
2. Story Task
Read or listen to dialogues, phone calls, emails, voice mails, letters, and instant messages.
3. English Comprehension
Answer questions about the Story Task.
4. Put it in Order
Rearrange the scrambled dialogue or email, to put it in the correct order.
5. Vocabulary Matching
Match the key word to its definition.
6. Fill in the blanks
Fill in the blank in each sentence with the missing key word.
7. Vocabulary Definition Roller
Read a definition and scroll to the correct key word.
8. English Word Bank
Review each key word from the lesson. Listen to the pronunciation, see it in a sample sentence, and see a definition.
Download
http://rapidshare.com/files/32...lish_At_Work_1.0-kidmoneys.rar