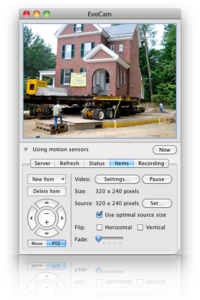 EvoCam v3.7.5 Mac OS X | 1.5 MB
EvoCam is the ultimate webcam software for Mac OS X. Use EvoCam to publish a webcam with streaming video, view and record video from network cameras and video servers, create timelapse movies, or use it as part of your home security system with its configurable motion sensors - these are just a few of the things you can do with this easy-to-use yet incredibly powerful webcam software! For simple webcam publishing, EvoCam can upload images periodically via FTP to your web server. If you need streaming video, EvoCam also has a built-in web server, allowing you to connect directly to EvoCam using a web browser. The built-in server can be password protected, and you can customize the HTML to give your webcam a personalized look. If your EvoCam server is publicly accessible, you can easily embed your EvoCam stream into a page on another web server.
Features
Supports multiple cameras simultaneously
Supports multiple webcam windows, each with independent settings
Supports virtually any QuickTime-compatible camera or video input device
Supports a wide variety of network cameras and video servers
Includes built-in web server with Java-based streaming video support
Supports Bonjour for publishing your webcam on your local network
Records video in 1 hour segments with optional recycling of old segments
Uploads images via FTP or SFTP to remote web servers
Emails images as MIME attachments to an email account
Saves images locally for use with Web Sharing or other web server software
Archives all images to timelapse QuickTime movies and/or separate images
Includes a Java webcam applet to display your webcam image on your web page
Powerful schedules to control when EvoCam is online
Unlimited motion sensors for automatic image capture when motion occurs
Unlimited text captions and clocks using any font, size, style or color
Unlimited picture badges using any image file, QuickTime movie, or dynamic image from a URL
Unlimited QuickTime Effect items
AppleScript support for control and customization
What's New in EvoCam 3.7.5?
Added support for Speco SIP series network cameras
Added ability to control camera nightvision from AppleScript
Fixed issue where EvoCam could crash when controlling Canon pan/tilt cameras
Fixed issue preventing badge items from downloading images from URLs
Fixed issue preventing EvoCam from checking for updates
Requirements
Mac OS X 10.4 (or later)
QuickTime 7.0 (or later)
Homepage:
http://www.evological.com/evocam.html