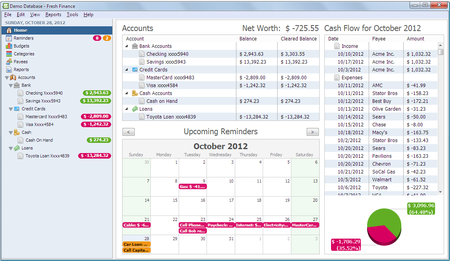 Fortora Fresh Finance 1.9.10 | 8.6 MB
Fresh Finance is the straightforward personal finance software for everyone, simple yet powerful. Easily manage your personal finances, such as balancing the checkbook, keeping track of credit cards, bill reminders, budgeting and more. Generate reports to see where your money is going, and make tax time easy. The streamlined user interface has an easy learning curve, and you will be up and running in a matter of minutes.
Features & Benefits:
Stay on top of your finances and know where you stand: Track your bank accounts, credit cards, loans and expenditures much more easily than doing it manually, and always know your net worth.
Enjoy a streamlined user interface: The uncluttered user interface is super easy-to-learn and use, especially compared to other personal finance software out there.
Never forget to pay a bill or make an important deposit again: Easily manage recurring or one-time reminders for your finance-related tasks.
Keep your budgets on track: Easily manage budgets, and compare your actual spending with your target spending so you can stay focused on saving, not spending.
Print Checks: Print standard and wallet checks, and make paying bills a breeze.
Extensive features and innovations: With features such as split transactions, account transfers, real-time search, bulk-editing, and tons of shortcuts, you have all the tools to effectively manage your personal finances.
See where your money is going: Quickly generate detailed reports, such as Income and Expenses and Cash Flow reports. See where your money is going, and make tax time easy.
Import transactions from your bank: Save time by optionally importing transactions from your online banking service, instead of manually inputting them. Supports importing OFX, QFX, QIF and CSV files.
Securely connect directly to your financial institutions: Save even more time by optionally connecting directly to your financial institutions, and automatically downloading transactions with a single click.
Import data from other finance software: Looking to migrate from your old financial software to something better? It's no problem with Fresh Finance; Easily import data from QIF and CSV files, and from another Mac or PC.
Works in all countries and currencies: Fortora Fresh Finance is designed to work well for users of many different regions of the world, and with multiple currencies.
Works with multiple users/networks: Share the same financial data between multiple users of the same computer, or multiple computers over a network.
Cross-platform and Portable. Works where you do: Available for both Mac and Windows, and you can even share data between both Operating Systems (great for people who use both a Mac and PC). And you can export your data to other financial applications via CSV and QIF industry standards.
And much more: Packed with the features you need, nothing more and nothing less, to help you finally get your financial life in order.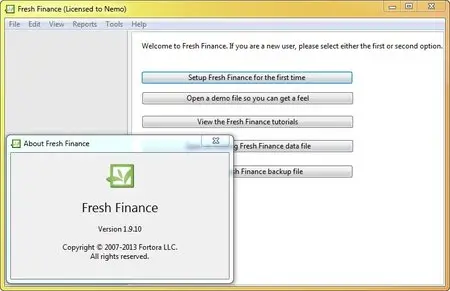 OS :
Windows XP or later (Windows 8, 7, Vista, XP); 32-bit and 64-bit
Language
: English
Home Page
-
http://www.fortora.com