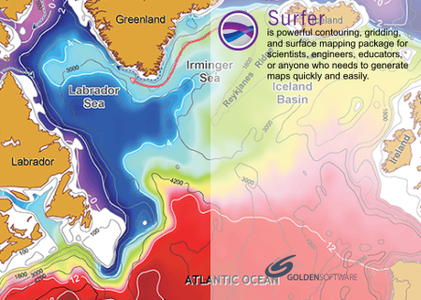 Golden Software Surfer 24.1 (181) | 262.5 mb
Golden Software, a developer of affordable 2D and 3D scientific modeling packages, is pleased to announce the availability of Surfer 24.1.181 is a grid-based mapping program that interpolates irregularly spaced XYZ data into a regularly spaced grid.
Surfer 24.1.181 (September 6, 2022) Improvements
- Base layers: convert coordinates of vector base layers
- Disperse Labels: added for drillhole, base and post layers
- Grid Editor: display base, post and classed post layers for context
- Label Leader Lines: added for drillhole and base layers
- Profile: XY Axis: automatically adjust Scaling and Limits when profile layers are turned off/on
Fixes
- 3D View: Export 3D: exporting vector contours to VRML hides texture on surface
- Automation: PostLayer: SymbolColorCol with gradient fill results in an empty map
- Base from Server: Error reads "Transparent must be either True or false" for a server that should work
- Convert Layer To: layer and color scale get out of sync
- Crash when opening Surfer
- Crash when opening v11 SRF file
- Crash when reloading data from the Drillhole Manager when there are some collars with no Hole ID
- Drillhole layer: Undo/redo does not work for overriding label set properties for individual drillholes
- GCS: EPSG 3031 transforms needs to be updated for accuracy
- Grid from Server: WCS server (geo.pacioos.hawaii.edu) isn't working but should
- Image Crop: Layer image flips when cropped
- Internal Error after cancelling export (iomanager.cpp)
- Internal Error after Image Crop or run out of disk space (gbmfilebitmap.cpp)
- Internal Error when using Base from Server (private.cpp)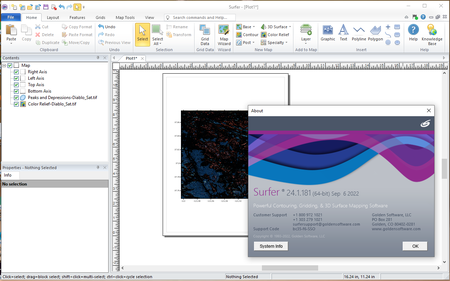 Surfer
is powerful contouring, gridding, and surface mapping package for scientists, engineers, educators, or anyone who needs to generate maps quickly and easily. Producing publication quality maps has never been quicker or easier. Adding multiple map layers and objects, customizing the map display, and annotating with text creates attractive and informative maps. Virtually all aspects of your maps can be customized to produce the exact presentation you want.
Surfer Introduction Training Video
This video introduces Surfer, explains some of the key features of Surfer, and shows how easy it is to create a contour map in Surfer from x,y,z data.
Founded in 1983,
Golden Software
is a leading developer of affordable scientific graphics software. Its customer base includes over 100,000 users involved in environmental consulting, oil and gas exploration and extraction, mining exploration and extraction, engineering, applied science, business, education, and government in nearly 190 countries and territories. Golden Software offers four products: Surfer for gridding, contouring and 3D surface mapping; Grapher for 2D and 3D graphing; Voxler for 3D data visualization; and Strater for well log, borehole and cross section plotting.
Product:
Golden Software Surfer
Version:
24.1.181
Supported Architectures:
x64
Website Home Page :
www.goldensoftware.com
Languages Supported:
english
System Requirements:
Windows *
Size:
262.5 mb
Please visit my blog
Added by 3% of the overall size of the archive of information for the restoration

No mirrors please