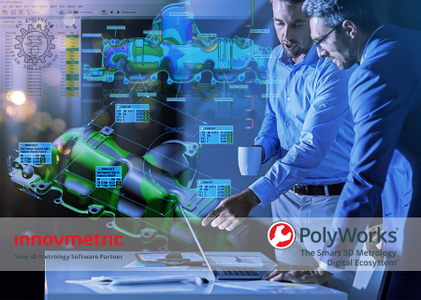 InnovMetric PolyWorks Metrology Suite 2021 IR3.3 | 1.6 Gb
InnovMetric has announced the launch of PolyWorks MS 2021 IR3.3, the latest release of its 3D dimensional analysis and quality control solution. The 2021 release delivers powerful curved surface analysis tools, transforms the measurement operator experience, and facilitates the deployment of PolyWorks|Inspector as a standard offline CNC CMM sequencing solution.
What's new in PolyWorks MS 2021 IR3.3 - Date: 2021/08/24 Fixed issue:
- An issue when importing a CATIA CAD model with PMI information has been fixed.
- The Faro Arm and Laser Line Probe plug-in now better supports the Faro Quantum Max ScanArm. Users with driver 6.9 or later can now mount the scanner to the front, making it possible to interchange probe and laser scanner positions.
- It was no longer possible to delete Data object elements being acquired during a scanning session. The issue has been fixed.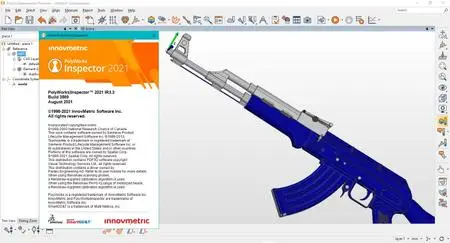 PolyWorks
is the leading software solution for high-end point cloud inspection and reverse engineering applications. Defining the cutting edge of 3D metrology, the software suite maximizes productivity, quality, and profitability when integrating 3D measurement technologies into an industrial manufacturing process.
From part and tool design and prototyping down to final inspection of assembled products, PolyWorks software offers advanced solutions to cover the complete product development cycle. Interfacing directly with major brands and technologies of single-point and point cloud 3D measurement devices through plug-in extension modules, this universal platform also supports a wide array of native point cloud and polygonal model file formats. With its fully customizable user interface and powerful, user-friendly macro programming language, PolyWorks offers the most adaptable software solution on the 3D metrology market. This flexibility allows our customers to successfully develop and deploy automatic inspection processes or guided operator-driven workflows for effective shop floor operations.
PolyWorks MS 2021's curved surface analysis toolbox offers a built-in isotropic surface defect detection technology that identifies anomalies such as bumps, dents, scratches, and cavities directly on scanned data, without the need for a reference CAD model. Leveraging the Microsoft HoloLens mixed reality devices, this new major release provides digital gauging operators with automatic mixed reality photo capture to ensure measurement traceability and accelerates assembly building through on-screen guidance powered by holograms.
PolyWorks MS 2021 also offers users a more comprehensive offline CNC CMM sequencing solution thanks to the increased intelligence of its assisted sequencing technology, enhanced support for CMM components from all major brands, and a DMIS exporter.
What's New in PolyWorks 2021 - Next-generation automatic surfacing technology
InnovMetric Software Inc.
is the leading provider of universal 3D metrology software solutions. The world's largest industrial manufacturing organizations trust our software solutions and technical services to maximize the benefits of 3D measurement technologies for their engineering applications.
Product:
InnovMetric PolyWorks Metrology
Version:
2021 IR3 Build 3569 Suite
Supported Architectures:
x64
Website Home Page :
www.innovmetric.com
Languages Supported:
english
System Requirements:
PC *
Size:
1.6 Gb
Minimum System Requirements *
CPU: Dual-core CPU
RAM: 4 GB
Graphics cards: Hardware-accelerated, professional OpenGL graphics card (such as a NVIDIA Quadro series card) equipped with 512 MB of memory
Operating system: 64-bit Windows 7, 8.1 or 10, Professional Edition
Input device: Two-button mouse with wheel

* These requirements are adequate if you are planning to review typical inspection projects produced by PolyWorks|Inspector.

Recommended System Requirements *
CPU: Quad-core CPU
RAM: 8 GB or more
Graphics card: NVIDIA Quadro series graphics card equipped with 1 GB of memory
Operating system: 64-bit Windows 7, 8.1 or 10, Professional Edition
Input device: Two-button mouse with wheel

* This configuration covers a broad range of applications by offering the performance required to review inspection projects containing large CAD models or digitized parts. If you have doubts about the best system configuration for your type of application, contact our technical support team.
Please visit my blog
Added by 3% of the overall size of the archive of information for the restoration

No mirrors please