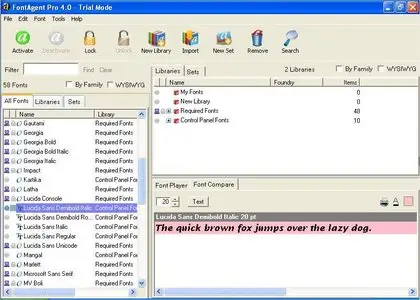 Insider Software FontAgent Pro 4.140 | 57 MB
Many Windows users think they are immune to font problems, but by storing all their fonts in the Fonts Control Panel, they waste system resources, bloat font menus, slow system performance and risk random crashes. But now, using FontAgent® Pro, you can optimize your Fonts Control Panel as you organize, view, compare, select, activate, print, export, archive and manage all your fonts—so you and your PC work at top performance.
There is no better time than now to gain control of the fonts on your PC… and there is no better way than with FontAgent Pro for Windows.
Find and Eliminate Font Problems
Built on Insider's decade of leadership in font management, FontAgent Pro solves font problems quickly and automatically as it helps you:
- Locate fonts scattered across folders
- Find mismatched screen and printer fonts
- Detect and reunite broken font families
- Remove duplicate fonts
- Quarantine corrupt fonts
… so you eliminate crashes, jaggies, mysterious font substitutions and strange application behaviors.
Optimize and Archive Your Fonts Control Panel
As you install applications, projects and font packs, your Fonts Control Panel becomes a cluttered mess. With a click, FontAgent Pro optimizes it to contain just the fonts required by your system, imports all your fonts into an organized font library, and archives your fonts for safekeeping and easy retrieval.
Improve System Speed and Stability
Using FontAgent Pro, you can activate a set, subset, font or even a single style—just the fonts you need—so you make long, scrolling font menus usable again, conserve memory and precious system resources, and improve the performance of all your applications.
Organize Your Font Collection
With FontAgent Pro, you can organize your fonts into any number of libraries. Keep customer fonts separate from your own fonts, or store downloaded fonts in their own library. Automatically rename fonts with cryptic filenames like BOD_BLAR.ttf to real font names like Bodoni Black.
Find Fonts Fast… Like Magic
Search for fonts by name, style, family or foundry… or just enter a keyword such as music to find all fonts on your PC and the Internet that you can use for that concert night poster. You can even find symbols and dingbats like magic. See a font you like on the Internet? It can be yours with just a few clicks.
Preview, Select and Print Fonts Quickly
Selecting the right font has never been so easy. Preview preset and custom text in any color. View a font in a waterfall of sizes. Use Font Player™ to cycle through a slide show of fonts. Narrow your choices toa set of fonts and compare them side-by-side.
Define Powerful, Cascading Sets
Organize groups of fonts into meaningful, easy-to-maintain, hierarchical sets by project or client. Then with a click, activate, view, compare, export or print all the fonts in a set or library.
Print and Share Fonts Easily
Produce full-color font samples and catalogs in pdf files or hard copy that you can share with clients and colleagues. Export fonts into folders for sending to designers, service bureaus, printers and associates.
Connect to FontAgent Pro Server
Use the Connected Edition to link to FontAgent Pro Server to synchronize your fonts and sets to the rest of the enterprise and ensure that the fonts on every project are correct and consistent.
New in Release 4.1
!
The latest version of FontAgent Pro adds Windows 7 system font support, auto-activation plug-ins for Adobe Creative Suite 5 applications, expanded font keyword search, and scheduled font-server synchronization.
System Support and Requirements
- Windows 7, Vista or XP
- 20 MB of available disk space
- TrueType, OpenType, PostScript Type 1 fonts
- Auto-activation plug-ins for InDesign, Illustrator and Photoshop CS2, CS3, CS4 and CS5
- Connected Edition connects to FontAgent Pro Server
Home Page
-
http://www.insidersoftware.com/FA_win.php