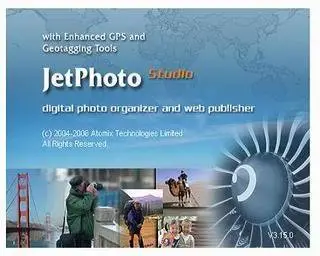 JetPhoto Studio 4.7 | 14.60MB
JetPhoto Studio
enables users to review photos with an enclosed map on which to show the locations where photos were taken. Besides directly pointing the photo on map to set the location manually, you can also try a very easy way to locate thousands of photos with GPS tracking automatically. JetPhoto adopts a patented method to match digital photos with time synchronized GPS track logs. The particular location of a longitude-latitude coordinate will be set for each photo automatically, and link all located photos on Google Earth as well as the Google Map/Yahoo Map embedded in the website with geotagging support.
Album is Folder
The first thing to consider is how to create a safe place to keep photos. JetPhoto saves photos in albums. Actually, each album package is one special folder placed on your computer disks, which contains the original digital photo files and the metadata saved in XML file. To some extent, JetPhoto Studio is a browser to view the content of photo album folder. It's not necessary to change your previous experience to handle photo files. Actually, user can regard an album as a normal folder to move, copy, duplicate or backup it, as well as open album by double-clicking its folder icon in any Windows file browsing window. JetPhoto Studio also provides an Album Manager to help users to manage the photo albums saved on disks.
Archive and Backup
It's very easy and clear, you could place albums in different folders to flexibly categorize your albums on your computer disks. And no more complicated action is needed to backup albums, just copy them onto CD/DVD by any general CD burning software. The album folders can also be exchanged between Windows PC and Mac computer. JetPhoto provides two versions for both operating systems.
Import Photos
JetPhoto Studio can download photos directly from connected camera or memory card reader, and acquire live images from webcam or scanner. Also, allows to import external photo files with drag-and-drop.
DOWNLOAD:
HOTFILE | MEGAUPLOAD
NO MIRROR PLEASE!!!
MY BLOG:
http://avaxhome.ws/blogs/presoft