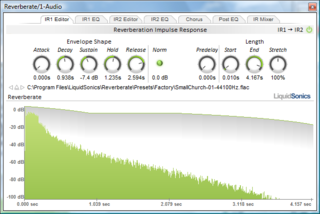 LiquidSonics Reverberate VST v1.006 | 12,45 MB
LiquidSonics' Reverberate is a highly efficient
convolution audio processor offering true zero
latency operation for two separate, stereo impulse
responses.
Reverberate seeks to provide a richer and more
dynamic sounding reverb from impulse responses by
optionally modulating an amalgamation of two,
separately controllable IRs using an LFO. Further
modulation is possible using the post-processing
effects; an all-pass interpolator chorus provides a
fuller sound and an over-sampled analogue prototype
paragraphic equaliser is provided with dual LFOs.
These features make for a livelier sound than
typically associated with some convolution reverbs,
at a very competitive price.
Features and Specifications:
Stereo convolution reverb
Dual IR for true-stereo capability
Zero latency (or select up to 8192 samples latency)
Wav, Aiff and Flac support
ADSHR envelopes
50%-150% stretch
Double oversampled IR-EQ
Pre-delay up to 500ms
Linear-interpolation chorus
Post EQ with LFO modulation

Uploading
mirror
Depositfiles
mirror
Megaupload

no mirror please