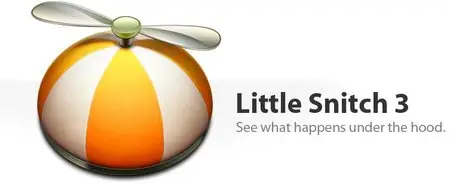 Little Snitch v3.0 Final Mac OS X | 12 MB
Languages: English, German

A firewall protects your computer against unwanted guests from the Internet. But who protects your private data from being sent out? Little Snitch does!
Protect your privacy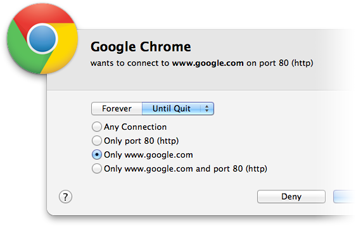 As soon as you're connected to the Internet, applications can potentially send whatever information they want to wherever they want. Sometimes they do this for good reason, on your explicit request. But often they don't. Little Snitch allows you to intercept these unwanted connection attempts, and lets you decide how to proceed.
Network Monitoring Redefined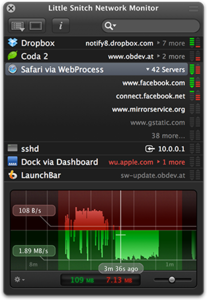 Take a look under the hood to see at a glance who talks to whom. The Little Snitch Network Monitor, which has been redesigned from ground up, raises the bar of network traffic monitoring to a new level. With beautiful animations and informative diagrams it provides fine grained real time traffic information, powerful yet simple options for analyzing bandwidth, traffic totals, connectivity status and more.
Highly detailed traffic history of the last hour, separate for each process, server, port and protocol.
Filtering by process name, server, port, etc.
Versatile grouping and sorting options.
Zooming from one hour down to one minute time range.
Display of total traffic amounts, peak traffic, average bandwidth, etc.
Save Snapshots for later analysis.
Capture network traffic in PCAP format.
Indication of connections denied by Little Snitch.
"Show Corresponding Rule" to quickly figure out why a particular connection was allowed or denied.
Display of system events (app launch or termination, sleep) to see network activity in its related context.
Silent Mode – Decide Later
There are times where you don't want to get interrupted by any network related notifications. With Silent Mode you can quickly choose to silence all connection warnings for a while. You can then later review the Silent Mode Log to define permanent rules for connection attempts that occurred during that time.
Profiles
With Little Snitch 3, rules can optionally be arranged in separate profiles like "Home", "Office" or "Internet Cafe". Rules that are assigned to a particular profile are only effective if that profile is active. The active profile can be chosen conveniently from the status menu. This allows you to quickly switch between different sets of rules depending if you are at home, at the office or connected to a public network.
Firewall for incoming connections
Little Snitch was always great at showing when data was sent out from your computer. It reveals any outgoing network connection attempt to make sure that sensitive data doesn't leave your computer without your consent. With the new inbound firewall in Little Snitch 3 you now get the same level of control for incoming connections as well.
Simplified Connection Alert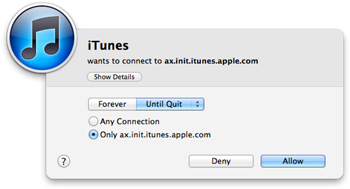 Afraid of technical terms like "TCP connection" or "http port"? No problem. The new Detail Level preference option allows non-expert users to get just the right amount of information to make their decisions. And it only takes a single click at the Show Details button to reveal the full information and all available options.
Research Assistant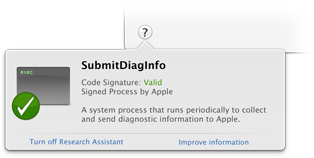 Have you ever wondered why a process you've never heard of before suddenly wants to connect to some server on the Internet? The Research Assistant helps you to find the answer. It only takes one click on the research button to anonymously request additional information for the current connection from the Research Assistant Database.
Versatile temporary rule options

A number of additional rule lifetime options allow you to create rules that are effective only for a limited time.
Domain based rules via Connection Alert

It's now possible to create rules that are effective for an entire domain right from within the Connection Alert.
Rules matching multiple destinations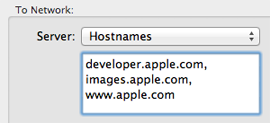 Rules can now be set up to match a list of hostnames, domains or arbitrary IP address ranges in from-to notation. This helps to keep the ruleset smaller and easier to maintain.
Ruleset Analyzer

Little Snitch 3 automatically analyzes your ruleset and points out redundant, overlapping or invalid rules which you may wish to delete.
Redesigned configuration interface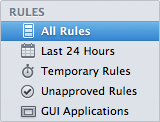 The new sidebar design gives you quick access to frequently visited areas such as recently added rules, temporary rules, suggestions, profiles and more.
Improved status menu

Quickly switch between profiles, turn on Silent Mode, access your rules and other settings, and see a summary of current network activity.
Rule Suggestions
Not sure which rules best suit your needs? Little Snitch 3 can offer rule suggestions based on your previous network usage (expired temporary rules, Silent Mode connections, etc.). A number of grouping options (by process, by domain, etc.) allow you to specify how fine grained these suggestions should be. You can then conveniently turn them into permanent rules.
System Process Rules
Rules are now based on process owner instead of rule owner, which makes it easier to define rules for system level processes such as web servers and other background services. These system process rules are effective in all user accounts.
Ask Rules
This new type of rules makes it possible to get asked for particular connection attempts while all other connections are still allowed or denied automatically.
Sort Rules by Precedence
Rules can now be sorted by precedence, which makes it easier to learn how they relate to each other.
Overview
Brand new Network Monitor
Firewall for incoming connections
Profiles
Silent Mode
Simplified Connection Alert
Research Assistant for connection attempts
Redesigned Configuration Interface
Ruleset Analyzer and sorting by precedence
Rule Suggestions
Domain based rules via Connection Alert
More powerful rules (ask-option, time limits, multiple destinations)
Improved menu bar item
Optimized for MacBook Pro with Retina display
New app icon designed by The Iconfactory
Network Monitor
Get an overview of network traffic
Traffic Diagram

Visual representation of traffic amounts over time.
Highlighting of system events (application launched, application terminated, computer sleep, …)
Display data rates on logarithmic or linear scale.
Zoom into time ranges of choice.
Supports multi-touch gestures for scrolling and zooming.
Selecting in the traffic view causes connection list to only show applications that where active (caused traffic) during that time.

Powerful sorting options (last activity, total traffic amount, process name, server name, …)
Save snapshots to investigate connection details at any later point of time.
Capture traffic of certain applications as .pcap file to open it with packet analyzer tools (such as Wireshark or Cocoa Packet Analyzer).
Easily create rules from context menu.
Show denied connection attempts.
List other hostnames resolving to same IP address.
Highlight corresponding rule in Configuration to find out which rule was responsible for allowing / denying this connection.
Search Field Tokens – Use keywords (process, server, host, ip, protocol, port or status) to filter your connection list.
Network Monitor Inspector.

Further details of selected connection entries.
Displays information about the process, server identification (hostnames, IP address), connection statistics (ports, traffic amounts, time of first / last activity, …).
Connection inspector now shows all information suitable for a search in the connection list as roll-over button so that a search can be started simply by clicking.
Connection Alerts
Simplified Connection Alert – choose your preferred level of detail.
More versatile temporary rules: Until Quit, Until Logout, Until Restart, For [n] Minutes, etc.
Creation of domain rules.
Select other hostnames resolving to same IP address to create a rule for.
Research Assistant
New Research Assistant for Connections. Little Snitch's Connection Alert now has a help button. Clicking the button triggers a query to the Research Assistant Database (maintained by Objective Development) and displays information about the current connection attempt.
Users can improve the information returned by submitting feedback directly from the Connection Alert. This data is sent anonymously and will be reviewed by Objective Development.
Configuration
Powerful new interface.
Manage profiles

Create or delete profiles.
Easily add rules to profiles via Drag&Drop.
Enable profiles by double-clicking on a profile in the sidebar.

Sidebar including

Rule Filters (Last 24 Hours, Temporary Rules, Unapproved Rules, …)
Rule Suggestions.
Profiles.

Ruleset Analyzation

Detection of redundant rules.
Highlighting of redundant / covered rules, to easily see which rules are obsolete.

Sort list of rules by process name, rule precedence or creation date.
Improved search

Narrow search scope to process, rule, enclosing folders, bundle identifier, notes.
Search results now include related rules as well.

Backups of rule archives (e.g. Time Machine) can be restored via Little Snitch Configuration.
Fullscreen support.
Suggestions
Little Snitch offers rule suggestions based on Silent Mode connections, former, already expired temporary rules, login connections and more.
Rule suggestions can easily be converted into permanent rules.
Rule suggestions can be grouped by their common properties (process, port, host, domain) – Easily create rules that cover most typical connections for certain processes.
Menu Bar Item
Revised Design.
Monochrome or colored Icon.
Optionally displays current data rates as numerical values.
Access to important settings.
Switch between Profiles quickly.
Enable or disable Silent Mode quickly.
Further Improvements
In order to support multiple simultaneous logins, processes are distinguished by the user account that started the process. Rules can be created so that they apply to processes running on behalf of the current user, on behalf of a system account such as root, or on behalf of any account.
When no user is logged in, all connections which are not covered by an existing rule are automatically denied. Rule suggestions are created for these connections and can be reviewed in Little Snitch Configuration.
If you can't login without network access (e.g. network accounts), the system can be restarted in Permissive Mode where all connections are allowed before the first user logs in. Allow-rules are automatically created so that future logins succeed. Permissive mode is also used during the first restart after installation, but not after upgrades.
All components are code-signed.
Changes since Release Candidate (3871)
Help is now available for Little Snitch.
Fixed an issue where Ask-Rules could cause a Connection Alert to be shown even in Silent Mode.
Fixed a bug where the Connection Alert wrongly indicated that the process terminated.
Fixed an issue where rules created from the Connection Alert were for process owner "System" instead of the current user.
Connection Alert now honors modifier keys that were held before the alert was shown.
Fixed unexpected change of filter scope when creating rules from rule suggestions.
Fixed potential crash of Little Snitch Network Monitor when deleting connections from the list.
Little Snitch Network Monitor can now be activated with LaunchBar. Simply add /Library/Little Snitch/Little Snitch Network Monitor.app to LaunchBar's index.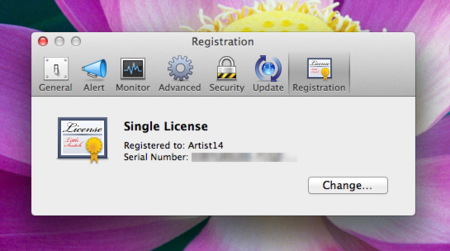 Similar app:
http://avaxhome.ws/software/Hands.Off.v2.0.9.MacOSX.html