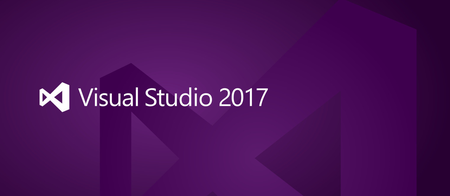 Microsoft Visual Studio 2017 Professional / Enterprise v15.3.4
Professional: 25.3 GB | Enterprise: 25.4 GB
Microsoft Visual Studio is a line of Microsoft products that includes an integrated software development environment and several other tools. These products allow you to develop both console applications and GUI applications, including those that support Windows Forms technology, as well as Web sites, web applications, web services in both native and managed codes for all platforms, Supported Windows, Windows Mobile, Windows CE,. NET Framework, Xbox, Windows Phone. NET Compact Framework and Silverlight.
Visual Studio includes a source code editor that supports IntelliSense technology and the ability for simple code refactoring. The built-in debugger can work both as a source code debugger and as a machine-level debugger. Other embedded tools include a form editor to simplify the creation of a graphical user interface, a web editor, a class designer, and a database schema designer. Visual Studio allows you to create and connect third-party add-ons (plug-ins) to extend functionality at almost every level, including adding support for source control systems (such as Subversion and Visual SourceSafe), adding new toolkits (for example, for editing and visual design Code in case-oriented programming languages) or tools for other aspects of the software development process (for example, the Team Explorer client for working with Team Foundation Server).
About Microsoft Visual Studio 2017
In this release, Microsoft has focused on four areas — productivity and performance, mobile, cloud, and devops. In its release notes, Microsoft said that 2017 release brings a lightweight and modular installation experience. It allows the developers to only get the components they need. Microsoft also claims that Visual Studio 2017 starts up to 3 times faster as compared to Visual Studio 2015. This release is designed to support teams in a better manner, it comes with tools to provide for developing NET Core 1.0 and 1.1 apps, microservices, and Docker containers. Xamarin integration in Visual Studio 2017 has been made better with a Xamarin Forms previewer and improved IntelliSense for Xamarin Forms XAML. An improved Git integration will be liked by devops. Visual Studio now makes use of the Git executables. Overall, more Git functionality is available directly within the DE.
Release Date: September 12, 2017 - Visual Studio 2017 version 15.3.4
Issues Fixed in September 12, 2017 Release

These are the customer-reported issues addressed in this version:
"TF30063: You are not authorized to access .visualstudio.com\" after upgrading to VS2017 15.3
After upgrading to released version of VS2017 15.3, I keep getting TF30063 error every time I open Visual Studio. After reconnecting things seem to be OK, untile I restart Visual Studio. And then TF30063 again.
Error installing GitHub extension
Afer install the latest VS2017 version, i've tried to install the GitHub extension.
The installation has trown an error and now cannot install/update any extension