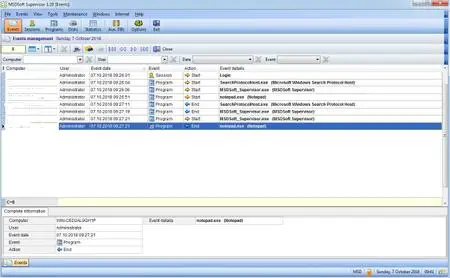 MSDSoft Supervisor 1.20 | 8.7 Mb
MSDSoft Supervisor is a program that allows to monitor the activity of users in their Windows computers, without disturbing them in any way, because it runs silently every time Windows starts and it takes very few resources. MSDSoft Supervisor stores in a database relevant events that happen in the computers where it has been installed. These events are user sessions, programs launched and removable disks connected.
Things that can be done with MSDSoft Supervisor:
Know what programs are launched in the computer, not only by the logged user, but also by Windows.
Terminate programs launched without user intervention which cannot be uninstalled by whatever reason.
Know the duration of every user session and also know the amount of time spent in every launched program.
Know what programs are used more frequently and during how much time.
Know what removable disks, pen-drives, CD-ROMs or DVDs are connected and disconnected in the supervised computers.
The information used by MSDSoft Supervisor is recorded automatically, without user intervention.
MSDSoft Supervisor Multiuser works in a similar way than the personal version, but the supervision happens in the computers of a local area network.
In a multiuser environment, the productivity of the employees will increase only by telling them that their computers are being monitored by MSDSoft Supervisor.
…and more!
Home Page
-
https://www.msdsoft.com/