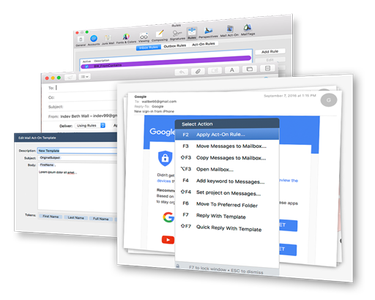 Mail ActOn 4.1.2 MacOSX | 9 MB
Mail Act-On is the powerful enhancement to Apple's Mail Application that puts organization at your fingertips.
Effortless Email Management
Mail Act-Ons powerful Keystroke rules and message filing interface gives you the ability to quickly take action on your email. Use Mail Act-On 3 to build sophisticated email workflows that eliminate repetitive, time consuming and error prone manual email organization.
Manage your Outbox
Outbox rules give you the power to alter and organize the messages you send. With Act-On you can automatically CC or BCC messages depending on rule criteria. Make sure you always use the right delivery account for different recipients. Or add special headers. Or delay delivery. And more.
Total Control
Mail Act-On 3 new features give you unparalleled ability to manage your messages. Use Act-On's new templates to quickly reply to messages. Use Act-On composer options to specify when messages are delivered, where sent messages get archived, and even which outbox rules are applied.
Mail Act-On's menu window is always a keystroke away
Quickly select an action to apply to the selected messages, or filter your options to show the actions you want. Lock the window open to rapidly apply multiple actions to messages.
Version 4.1.2:
-New: Cancel delivery outbox rule action becomes confirm delivery rule action with option to send or cancel delivery.New Show MailTags Keyword and Project mailboxes in Open Mailbox. Fixes potential crash when opening MAO window for applying Rules to messages.Fixed
-Fixes potential issue where MAO rules may be lost at initial sync when updating.
-Fixed: Addresses issue where MAO may hang at launch if sync settings is turned on.
-Fixed: Crash when sending messages on OS X 10.11.
-Fixed: Crash when selecting Edit templates… in template menus
-Fixed: Choosing open Mail Act-On preferences from File menu does nothing.
-Fixed: Intermittent stability issues when opening Mail Act-On Rule Menu window.
-Fixed Fixes logic error when displaying High Sierra welcome window. Welcome window may show a second time for some users.
-Fixed: Issue with delayed delivery time not displaying in classic mode.
-Fixed: Interface issues when reediting delivery time for delayed messages.
-Fixed: Outbox rules after-delivery actions not performing for delayed messages
-Fixed: Issue with rules losing their destination mailboxes when rules are synchronized between machines (especially for exchange mailboxes)
Compatibility:
The latest version of El Capitan 10.11, macOS Sierra 10.12 or macOS High Sierra 10.13
HomePage
-
https://smallcubed.com/mao/