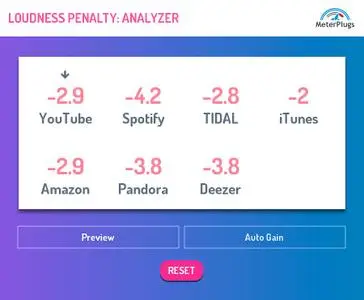 MeterPlugs Loudness Penalty v1.7.0 WiN / OSX | 6 Mb / 11 Mb
Confidently assess how your music will play back online. With Loudness Penalty, you can…Optimize your music's online loudness. Share your music knowing it will hold up online. Preview how your music will sound online. No need to leave your DAW. Pinpoint loudness pain-points. Find exactly which parts of a song trigger the biggest penalty.
Discover when it's possible to turn your music up
without incurring a penalty.
Reassure clients
Show them how streaming services affect loudness.
Avoid loudness indecision
No more trial and error, no more guessing.
Take Control of the Loudness Penalty
Manage how much your music is turned down by online streaming services
Online streaming services turn down loud music to ensure a more consistent listening experience. The Loudness Penalty plugin tells you how much your music will be turned down by YouTube, Spotify, TIDAL, Pandora and Apple's Sound Check. Now you can have immediate access to this information right in your DAW. Spot the moments that trigger the biggest penalty, and tweak your settings to avoid them, while retaining impactful, punchy playback.