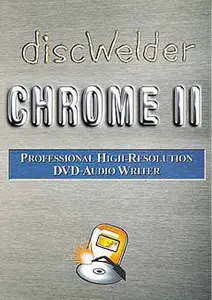 Minnetonka discWelder Chrome II 2.0.25 | 21.0 MB
discWelder CHROME II— the fast, easy way to produce commercial grade DVD-Audio discs from your high resolution assets.
Minnetonka discWelder CHROME offers an extensive feature set for the production of highly interactive DVD Audio titles for commercial release, including the import of all linear PCM formats supported in the DVD-A specification plus, MLP import and "gapless" MLP playback, our exclusive "gapless" PCM playback, user–defined menu graphics, a hierarchy of multiple selections menus, slide show graphics to accompany your audio tracks and, video_ts import for "hybrid" DVD-A/V formatting. The second generation CHROME II adds an array of innovative new features such as DSD audio conversion and auto–mirroring of the video zone.
discWelder CHROME II includes all the advanced features of discWelder STEEL, plus it has the features pros rely on for reliable replication and visually interesting menus. discWelder CHROME II supports DLT tape for final output, the industry standard method of delivering your DVD-A title to replication.
CHROME II also adds a key feature to allow your titles to compete with big name authoring houses: active, motion menus and startup screens. Motion menus make your title look like a big name, commercial disc, with motion background sequnces that cycle automatically. Startup screens let add your company logo to your title, so consumers remember your brand.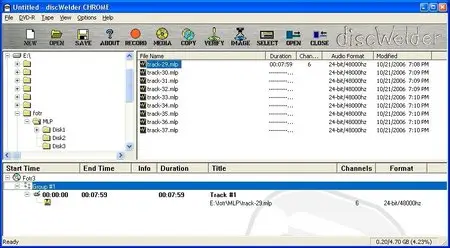 This new version of discWelder fixes several bugs and issues since the 2.0.6 release, including:
- Dual layer image creation which was not possible in 2.0.6
- Custom menus are now possible and don't require the user to become insane anymore (2.0.6 had a whole host of limitations/issues)
- Several other minor bugs/gui bugs
- Who knows what else. I wish I had version release notes but I wasn't provided with any.
Thanks goes to the anonymous supplier of this version of discWelder. Many thanks and respect goes out to PARADOX who provided the initial crack for the 2.0.6 version, which works in the same way for 2.0.25.
Respect to the Scene but LONG LIVE PUBLIC SHARING!
ENJOY AND GO FORTH AND CREATE YOUR DVD-As!