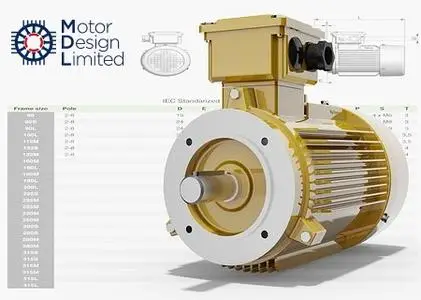 Motor-CAD V12 version 12.1.7.1 | 165.8 mb
Motor Design Ltd is delighted to announce the release of Motor-CAD v12 — the latest version of our unique software package dedicated to the electromechanical performance of motors and generators and the optimisation of their cooling.
New features in Motor-CAD v12
The development of Motor-CAD is driven by demand for a powerful electric motor design tool that evolves to keep up with the needs of its users. A selection of the latest features includes:
- New mechanical module with rotor stress analysis — 2D FEA based solution in Motor-CAD to analyse stress and displacement in rotors during operation.
- New PMDC EMag module for modelling of brushed DC machines.
- New IM1PH EMag module for modelling of single phase induction machines.
- Improved Heat Exchanger Model with added coupling to water jacket cooling systems.
- Improved Lab AC loss map giving more accurate loss modelling across whole machine operating range.
- New automatic report generation – automatically create custom reports in Microsoft Word format, with user options to add screenshots and tables of values.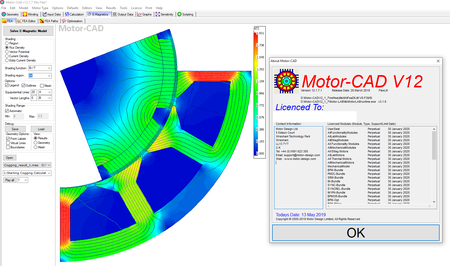 About Motor-CAD.
Motor-CAD software enables motor designers to evaluate motor topologies and concepts across the full operating range and produce designs that are optimised for performance, efficiency, size and cost. The software's four integrated modules—EMag, Therm, Lab and Mech—allow multi-physics calculations to be performed quickly and iteratively, so users can get from concept to final design in less time.
- EMag:
Uses a combination of 2D FE environment and analytical algorithms for fast calculation of electromagnetic performance. Optimise designs easily with our extensive range of parameterised templates and geometries.
- Therm:
The industry-standard tool for thermal analysis of electric machines, with over 20 years of inbuilt experience. Calculate the temperature of the motor components in steady-state and transient operating conditions and accurately model thermal behaviour within seconds of calculation.
- Lab:
Enables rapid and accurate analysis of any electric machine design over the full operating envelope. Carry out efficiency mapping and drive cycle analysis within minutes.
- Mech:
2D FEA based solution in Motor-CAD to analyse stress and displacement in rotors during operation (new in Motor-CAD v12).
Accurate electromagnetic and thermal calculations can be performed in minutes, allowing users to respond to changing specifications, innovate and explore the whole design space. The results are presented in an easy to understand form for analysis and can be exported for integration into larger workflows using our advanced links to other software.
This video tutorial will give a brief introduction to Motor-CAD, followed by a live demonstration of some of the main features.
About MDL.
Motor Design Ltd (MDL) is a world leader in developing advanced software and tools for electric machine design. We have been developing electric motor design software since 1998.
Our software, Motor-CAD, is recognised worldwide as class-leading motor design software. We use our expert knowledge of designing electric motors to provide software support to electric machine designers at some of the most prestigious aerospace, automotive and industrial companies worldwide.
Product:
Motor-CAD
Version:
V12 version 12.1.7.1
Supported Architectures:
x64
Website Home Page :
www.motor-design.com
Language:
english
System Requirements:
PC
Supported Operating Systems:
Windows 7even or newer
Size:
165.8 mb
Please visit my blog
Added by 3% of the overall size of the archive of information for the restoration

No mirrors please