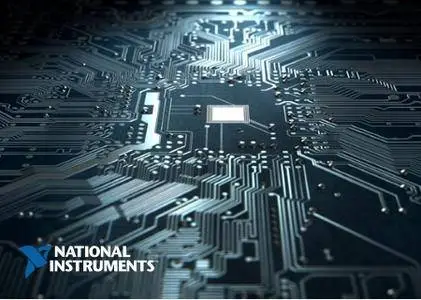 NI Multisim Component Evaluator 14.0.1 | 636.8 mb
National Instruments (NI), the provider of solutions that enable engineers and scientists to solve the world's greatest engineering challenges, has released an updated to Multisim Component Evaluator (MultiSIM BLUE) 14.0, is the schematic capture and simulation application of Circuit Design Suite, a suite of EDA (Electronics Design Automation) tools that helps you carry out the major steps in the circuit design flow. Multisim is designed for schematic entry, simulation, and exporting to downstage steps, such as PCB layout.
NI Multisim represents a best-in-class engineering design experience, both in the classroom and in the laboratory performing SPICE simulation or measurements on prototypes. With strong roots as an exploratory virtual electronics workbench, Multisim has been a primary go to tool for students and engineers alike to investigate and implement their new circuit designs and electronic inventions. In collaboration with Mouser Electronics, a worldwide leading authorized distributor of electronic components for over 500 industry leading suppliers, offer MultiSIM BLUE. This tool will add features and functionality to provide engineers with an industry-standard SPICE simulation environment of electronic circuits using Mouser Electronics' distributed components.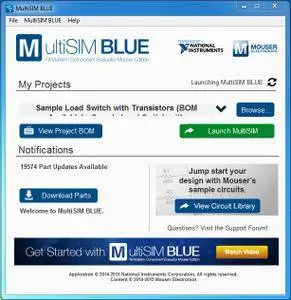 MultiSIM BLUE offers powerful user experience for:
- Building interactive electronic schematic designs
- Using integrated SPICE to explore the basic functional behavior of circuits
- Browsing thousands of parts, that both simulate, tie to real devices and can be built into a PCB level project
- Large project driven database provided by Mouser Electronics
- Can be used while disconnected
- Free integrated PCB layout, 64 layers, autorouting, 3D mechanical viewing, no board size limits.
Users are no longer stuck with their designs in a simplified toolset; MultiSIM BLUE has:
- Continuity for your educational or professional needs as all schematics can be opened and maintained in the various other tiers of NI Multisim
- The MultiSIM BLUE database (Mouser Database) can be shared and maintained across all other MultiSIM Professional and Educational tiers as well (free for all existing NI Multisim users on version 13.0.1 and above)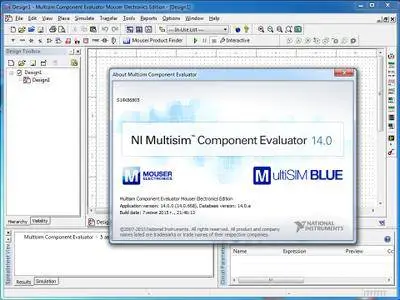 About National Instruments.
Since 1976, National Instruments has equipped engineers and scientists with tools that accelerate productivity, innovation and discovery. NI's graphical system design approach to engineering provides an integrated software and hardware platform that speeds the development of any system needing measurement and control. The company's long-term vision and focus on improving society through its technology supports the success of its customers, employees, suppliers and shareholders.
Product:
NI Multisim Component Evaluator
Version:
14.0.0 (14.0.668), Database version 14.0.a
Supported Architectures:
32bit / 64bit
Website Home Page :
http://www.ni.com
Language:
english
System Requirements:
PC
Supported Operating Systems:
Windows XP SP3 / Vista / 7even / 8.x / Server 2008 R2 (64bit) / Server 2003 R2 (32bit)
Software Prerequisites:
To develop custom LabVIEW-based instruments for use in Multisim, LabVIEW 2013 or above
Size:
636.8 mb
Please visit my blog
Added by 3% of the overall size of the archive of information for the restoration

No mirrors please