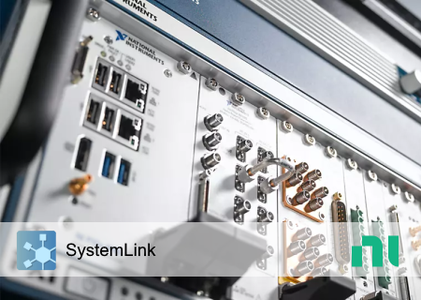 NI SystemLink 2021 R2 | 2.2 Gb
Languages Supported: English, Deutsch, 日本語, Simplified 中文
National Instruments, the provider of a software-defined platform that helps accelerate the development and performance of automated test and automated measurement systems, announced the new version of SystemLink software.
The following items are notable issues fixed between the release of SystemLink 2021 R1 and SystemLink 2021 R2, including additional patches and service packs.

1411798 LabVIEW RT targets show "partially connected" status in Systems Grid due to failing http requests from the client when using self-signed certificates
The NI Web Server Configuration Utility is adding ipv6 addresses to the SAN of the certificate. This is causing http requests coming from the client to fail because of a known bug in urllib3: Connection fails via https when certificate contains IPv6 address in SAN · Issue #1269 · urllib3/urllib3 (github.com)
This breaks the RT target's ability to connect and publish data when using self-signed certificates because NI LinuxRT uses a version of urllib3 that does not contain the above fix.
Workaround: To resolve the issue, navigate to the NI Web Server Configuration Utility and complete the following steps:
1. Navigate to the HTTPS tab
2. In the HTTPS settings section, expand the "Generate a new certificate" section
3. Find the entry containing "::1" and hit the "Remove" button
4. Click the "Generate and install" button and follow the remaining steps in the utility to generate a new certificate

1420676 Custom NoSqlDatabase connection string does not allow lower case URL encoding
Setting a custom connection string in the NoSqlDatabase configuration requires any special characters to be URL encoded. Using lower case characters within the URL encoding will cause the string to be incorrectly regarded as invalid.
Workaround: Use only upper case characters within the URL encoding. For example, %3d will be considered invalid, but %3D will work correctly.

1516370 DIAdem cannot connect to DataFinder if "Enable AMQP client access (less secure)" is disabled in SystemLink Server Configuration
Workaround: Install the 4.7 .NET Framework on the SystemLink server.

1516963 Canceling a report or notebook execution causes the worker to stop functioning
Canceling a notebook execution from the Test Insights Report view causes the worker process to throw an exception, and it can no longer be used. There are 4 notebook execution workers by default, so if this happens multiple times, you will no longer be able to execute any notebooks or reports. In addition, reports in dashboards will no longer be updated.
Workaround: Rebooting the server will restart the notebook execution workers and allow everything to work temporarily.
NI SystemLink
is systems and data management server software that helps your team save hours setting up and managing test systems and searching for data needed for analysis. With a centralized web-based management interface for connected devices, software, and data, your team can update test system software, view system health information, and search for data with a few button clicks. With test and measurement data at their fingertips, teams can analyze even more findings to gain better insights and make effective decisions faster. SystemLink provides out-of-the-box support for NI products like LabVIEW, TestStand, PXI, and CompactRIO along with an open architecture for incorporating a wide range of third-party software and instrumentation.
Since 1976, National Instruments
has equipped engineers and scientists with tools that accelerate productivity, innovation and discovery. NI's graphical system design approach to engineering provides an integrated software and hardware platform that speeds the development of any system needing measurement and control. The company's long-term vision and focus on improving society through its technology supports the success of its customers, employees, suppliers and shareholders.
Software company National Instruments (NI) has unveiled its new brand identity including a new logo, visual identity, enhanced digital experiences and a brand campaign aimed at recognising and celebrating the contributions of the engineers and enterprises. NI launched its APAC hub in Penang 10 years ago.
The new logo is the initials of NI in small letters, a vast difference from carrying the company's full name previously.
Product:
NI SystemLink
Version:
2021 R2
Supported Architectures:
32bit / 64bit
Website Home Page :
www.ni.com
Languages Supported:
multilanguage
System Requirements:
PC *
Size:
2.2 Gb
Please visit my blog
Added by 3% of the overall size of the archive of information for the restoration

No mirrors please