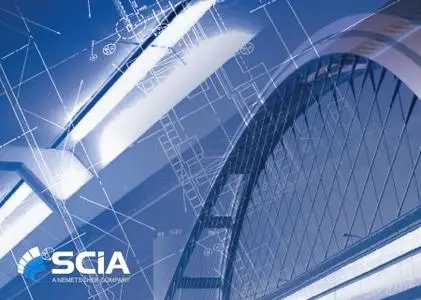 Nemetschek SCIA Engineer 2018 version 18.1.1047 | 3.2 Gb
SCIA part of the Nemetschek Group has released an updated SCIA Engineer 18.1 is follows in the footsteps of version 18 and focuses primarily on extending some of the recently introduced features and capabilities.
SCIA Engineer 18.1 - Release Date: 4 October, 2018
This latest version further extends the functionalities presented in SCIA Engineer 18 with the aim to help structural engineers increase their productivity in multi-material design, in BIM workflows as well as in their common, day-to-day tasks.
Version 18.1 delivers a host of enhancements in the areas of concrete, steel and composite design, BIM, evaluation of results and overall usability:
- calculation of long-term deflection of slabs with ribs according to EN 1992-1-1,
- support for composite beams with multiple openings following the SCI publications and better prediction of floor vibration issues,
- calculation of required reinforcement in beams and columns in compliance with the SIA 262:2013 code,
- output of mathematical formulas for the design of steel members,
- redesigned bill of material,
- import of IFC4 files,
- and more…
General improvements in SCIA Engineer 18.1:
- IFC4
SCIA Engineer version 18.1 brings brand new possibility for an import of IFC4. We are now supporting both main IFC versions certified 2x3 and new version 4. The user just needs to select an import of IFC file and the right version of IFC is automatically detected by SCIA Engineer. So the user doesn't need to think about a version of IFC file which one is which. We have also extended supported IFC types in IFC4 – so-called standard types. With IFC4, we are also supporting the Tessellation shape representation of IFC objects. As a result of this development, you can now easily generate IFC4 file within Allplan, Allplan bimplus or ArchiCad and easily import it to SCIA Engineer.
- Bill of material
With release SCIA Engineer 18.1 we further enhanced our post-processing environment v17 with a brand new bill of material. You obtain summary information related to mass, volume and surface of particular materials. Then you can choose between three types of sorting – according to materials and their grades or cross-sections/slab thicknesses or length of 1D members. Bill of material contains also possibility for raw estimation of the price of the whole structure. This estimation is based on the analytical model and price for material per kilogram. You have to input unit price and then all the rest is calculated by SCIA Engineer. Afterwards, you have a raw overview of the cost of structure based on your model.
- Relative deformation
The other improvement related to post-processing environment v17 is related to the calculation of relative deformation. Our steel user will be happy to see it in the action as it will help them to understand the results of a check of steel members according to serviceability limit state. Relative deformations are accessible in the results service under 1D deformations. So you can easily switch the type of result and check calculated values.
- Calculation dialogue enhancements
SCIA Engineer 18.1 developments keep bringing enchantments to the Post Processing Environment introduced in version 17.
Based on user feedback we extended the capabilities of the calculation dialogue by enabling the user to:
. Save the project after the calculation. This option is meant to make sure that all your data are going to be properly stored after the calculation and your project is always ready with "Results" content.
. Selection of Engineering Report content to be regenerated after the calculation. Engineering Report report of SCIA Engineeris a power-full tool always up-to-date with the model. SCIA Engineer 18.1 makes sure after the calculation you can select which Report has to be updated with the new results.
- Calculation protocol for Soilin
We have improved calculation protocol for Soil – structure interaction analysis. You can have an overall information about calculation and intermediate results of each performed iteration.
- Improved messages in calculation dialogue
We have enhanced dialogue after the end of modal analysis so that you are informed about the number of calculated eigenvalues for mass combinations and their magnitudes. The benefit for response spectra analysis lies in the display of participated masses so that I can see if the well know Eurocode rule is satisfied or you need to do some adjustments. The similar message is displayed for stability analysis where you are notified about calculated critical values for stability combinations.
About SCIA Engineer 18.1.
SCIA Engineer is an integrated, multi-material structural analysis and design software for all kinds of structures. Its wide range of functionality makes it the ideal partner for the design of office buildings, industrial plants, bridges or any other project, all within the same easy-to-use environment.
- Full design process in one model
Powerful CAD-like modeling, advanced types of calculation, code-compliant multi-material design and customizable reports.
- Advanced generators
Typical situations can be automated with built-in or user-defined parametric templates for various geometries and powerful load generation tools.
- Comprehensive code-coverage
SCIA Engineer provides the most comprehensive implementation of Eurocodes, including National Annexes, U.S. codes and other international standards.
- Plug into any BIM workflow
Seamless exchange of models with other project stakeholders, through the powerful bi-directional links with Revit and Tekla Structures, Open BIM's IFC, or third-party plug-ins.
SCIA Engineer 18.1 move the software to the next level in terms of usability, material design and interoperability. We have enhanced usability with streamlined basic operations and more automatic workflows, improved integration into BIM workflows with upgraded Revit and Tekla links, a new IFC4 interface and added new design capabilities for advanced materials and construction systems.
About SCIA.
Since 1974, SCIA has been developing, distributing and supporting software products for structural engineering and the construction market. Our software is now localized in 13 languages, supports 20 national standards and is distributed in more than 50 countries, giving us a truly global reach. This allows us to efficiently serve local, regional and multi-national engineering companies and organizations on all types of projects, all over the world. SCIA is part of the Nemetschek Group.
Product:
Nemetschek SCIA Engineer
Version:
2018 version 18.1.1047
Supported Architectures:
x86
Website Home Page :
www.scia.net
Language:
english
System Requirements:
PC
Supported Operating Systems:
Windows 7even or newer
Size:
3.2 Gb
Please visit my blog
Added by 3% of the overall size of the archive of information for the restoration

No mirrors please