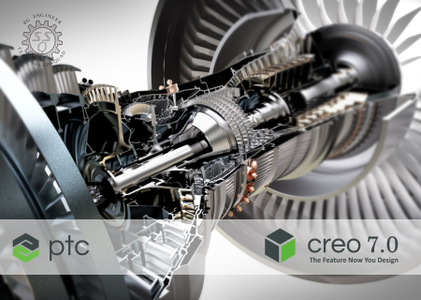 PTC Creo 7.0.4.0 with HelpCenter | 6.9 Gb
Languages *: English, עברית, 日本語, Ελληνικά, Français, Türkçe, Deutsch, Čeština,
Русский, Polski, Italiano, Magyar, Español, Slovenščina, 한국어, Português,
Traditional 中文, Simplified 中文, Brazilian Português, Slovenčina
PTC has launched the next generation of its Creo 3D computer-aided design (CAD) software, Creo 7.0.4.0. The software's new capabilities put the power of artificial intelligence (AI) at designers' fingertips, making simulation a seamless part of daily work.
Detailed Drawings Auto Erase of Set Datum Planes
The new configuration option auto_erase_set_datum_planes allows you to control whether set datum planes should be automatically erased in newly created drawing views.
• no*—Automatically shows the set datum planes when a drawing view is placed.
• yes—Automatically erases the set datum planes when a drawing view is placed.
This enhancement improves the productivity and reduces the time required to hide set datum planes in new drawing views.
Model-Based Definition Dimension Creation while Working with GD&T Advisor
Often you might need to add a missing dimension to complete the definition of your tolerance feature.
The dimension creation command is now accessible when you work with GD&T advisor and create tolerance features. This streamlines the annotation process with GD&T Advisor and allows you to create required dimensions without exiting the tool, as was necessary previously.
The workflow for creating a dimension while you are working with GD&T Advisor:
1. The required dimensions for the definition of a tolerance feature are not found.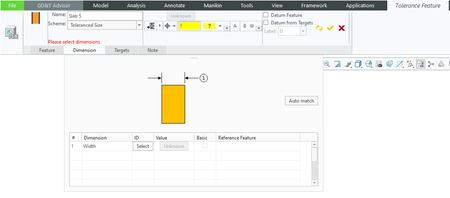 2. Switch to the Annotate tab, select the appropriate annotation plane, and then create the required dimensions that will be used by the tolerance feature.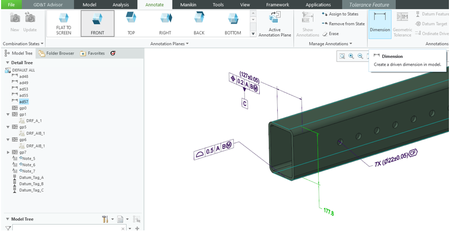 3. Switch to the Tolerance Feature tab and auto match to find the newly created dimension to finish the definition of the tolerance feature.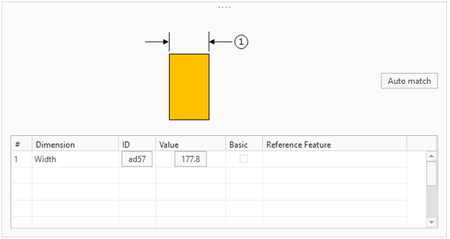 GD&T Advisor Support for Assemblies
GD&T Advisor now allows you to quickly create syntactically correct, feature-centric GD&T annotations for assemblies. It can also guide you on how the GD&T annotations should be correctly applied to constrain the model.
Previously, GD&T Advisor supported only Part mode.
This enhancement quickly annotates assemblies with syntactically correct GD&T.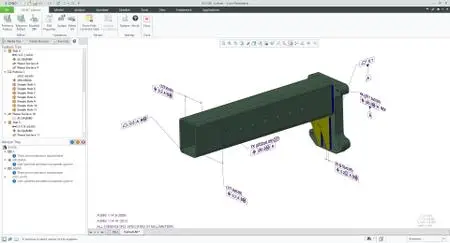 Mismatched Annotations Manager in GD&T Advisor
A new GD&T Advisor tool has been added for managing the required updates to annotations.
User Interface Location: Click GD&T Advisor > Manage Annotations.

The new Manage Annotations tool allows you to review and decide which updates identified by GD&T Advisor to apply and which to skip, to allow for the user-defined definitions.
This new tool provides you with more visibility and control over the expected updates.
This tool is supported in Part and Assembly modes.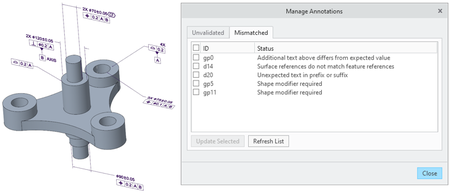 Count of Multi-surface Feature Annotations in GD&T Advisor
Use the GDTAAppOptions.xml file to specify whether to include or exclude the number of surfaces that are related to a Multi-surface feature from the annotation text.
This file is located in the root folder of your Creo Parametric installation at the following location:
..\Creo 8.0.0.0\Common Files\gdt_home\GDTAAppOptions.xml
Update the relevant show_count labels in the following tags based on the standard being used:
<Option name="ASME_Multi-surface_Text" show_count="yes" value="X"/>
<Option name="ISO_Multi-surface_Text" show_count="yes" value="x"/>
For example, <Option name="ASME_Multi-surface_Text" show_count="No" value="MULTIPLE-SURFACES"/>

Reference Dimensions in GD&T Advisor
Dimensions can now be indicated as reference dimensions in GD&T Advisor if they are shown for reference only and are detailed in another level of the design.
User Interface Location: When defining a tolerance feature/pattern, select the Reference Dimension or Auxiliary Dimension check box in the Edit Dimension dialog box.
You can now define an assembly dimension as a reference dimension.
Sometimes it is required to indicate and show a dimension for reference only (visually shown in brackets). This is required for an unambiguous GD&T definition. Typically, the same dimension is shown in another level of the design (GD&T of the components).
With this enhancement, there is no need to switch back and forth between GD&T Advisor and the native Creo Parametric to define a dimension to be used for reference-only.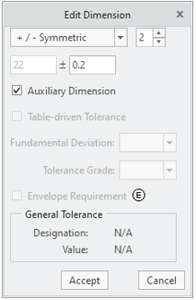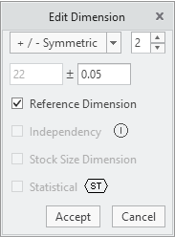 Designation State of a Consumed or Moved Annotation
A new configuration option has been added to keep the designation state of an annotation.
The new configuration option maintain_annotation_designation defines whether to keep the designation state of the annotation in the following cases:
- Standalone annotation is consumed by an annotation feature.
- Annotation of an annotation feature is copied from one annotation feature to another.
- Annotation of an annotation feature is moved to another annotation feature.
RenderingSupport for GPU in Render Studio
User Interface Location: Click Render Studio > Denoise.
Creo Parametric has updated the rendering engine to Keyshot 9.3 for Render Studio. With this update, Render Studio now supports GPU processing that provides improved render quality and performance.
With a supported NVIDIA RTX-class graphics card and required driver, Creo Parametric automatically selects the GPU processing mode when accessing Render Studio. Without a supported graphics card, Creo Parametric reverts to the standard CPU processing mode. When in the GPU processing mode, you can leverage the denoise option while rendering to speed up the rendering workflow. Use a new configuration option advanced_rendering_mode to control the mode to run Render Studio.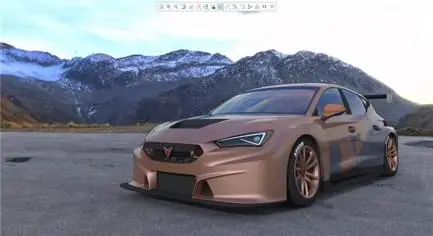 The PTC Hardware Check Utility has been updated to check the hardware for Creo Render Studio to support the GPU mode.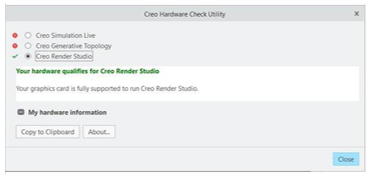 With the advancement of graphics cards offered by NVIDIA, upgrading the rendering engine to Keyshot 9.3 allows Render Studio to take advantage of GPU processing to improve the rendering quality and performance.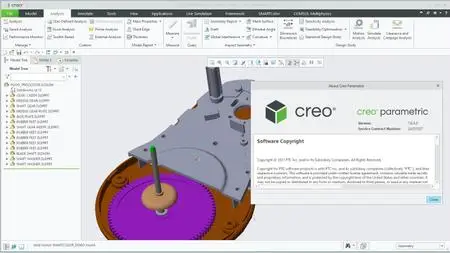 Creo
helps designers build better products faster by facilitating product innovation, fostering design reuse, and replacing assumptions with facts. Designers can go from the earliest phases of product design to a smart, connected product all within a single environment.
The Creo 7.0 launch follows PTC's recent acquisition of Onshape, developer of the Onshape Software-as-a-Service (SaaS) product development platform, demonstrating the company's deep commitment to providing innovative technology – via multiple delivery models – to drive business value.
Creo 7.0 introduces breakthrough capabilities in generative design, real-time simulation, and additive manufacturing, in addition to numerous productivity enhancements such as multi-body design.
Creo 7.0 - Top Enhancements
This video demos the new Generative Topology Optimization extension, powered by Frustum, which combines topology optimization and simulation algorithms to generate a series of optimized results focused on manufacturing criteria, running seamlessly in Creo Parametric. This was introduced in Creo 7.0.
PTC
enables global manufacturers to realize double-digit impact with software solutions that enable them to accelerate product and service innovation, improve operational efficiency, and increase workforce productivity. In combination with an extensive partner network, PTC provides customers flexibility in how its technology can be deployed to drive digital transformation – on premises, in the cloud, or via its pure SaaS platform. At PTC, we don't just imagine a better world, we enable it.
Product:
PTC Creo
Version:
7.0.4.0 with Help Center
Supported Architectures:
x64
Website Home Page :
www.ptc.com
Language:
multilanguage *
System Requirements:
PC **
Size:
6.9 Gb
Creo applications are supported in many languages at three levels in the order shown.

- Character support
- Localized user interfaces
- Localized documentation

With character support for a language, characters appear accurately on the screen when you type and when you view items such as drawings or 3D notes. Character support for a language does not always mean that the user interface or related documentation is also available in that language.

Character support is available for the following languages, which are listed in order of implementation from English through Slovak.
System Requirements

Operating System: Windows 10 64-bit, Windows Server 2012 R2, Windows 8.1 64-bit
Memory: 4GB or higher
Monitor: 1280x1024 (or higher) resolution with 24-bit or greater color
Graphics card: For 3D hardware acceleration, an OpenGL graphics card must be used that has been tested in a PTC-certified configuration.
Pointing device: Microsoft-approved three-button mouse
File systems: NTFS
Please visit my blog
Added by 3% of the overall size of the archive of information for the restoration

No mirrors please