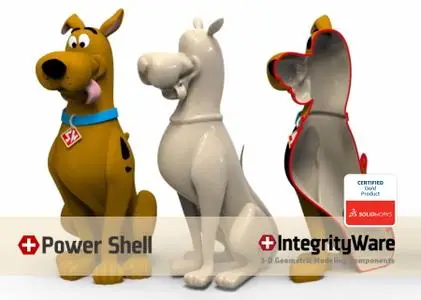 Power Shelling 1.0 for DS SolidWorks | 289.3 mb
nPower Software / IntegrityWare, Inc announces the release of a new Power Shell product and technology for SOLIDWORKS. Power Shell introduces new technology to handle Shelling / Thicken cases that previously failed. When regular Shall fails, Power Shell prevails.
San Diego, June 8, 2020 - Press Release
The new technology behind Power Shell solves a common problem with CAD software. For years, CAD users have struggled with Shelling. In most CAD systems, Shelling fails in many common circumstances. CAD models with small radii, large shell thickness, tight corners, small features, disappearing features, narrowing areas, self intersections and other difficult geometry cause the standard shelling algorithm to fail. The new technology and new approach of Power Shell deal with these difficult geometric configurations so that it can Shell virtually any CAD model with any size of Shell thickness. Instead of spending time trying to modify your models so that the Shell tool can work, why not save valuable time and try the Power Shell tool?
Power Shell can shell out faces, or hollow out the interior of a model; it can offset inward or outward. And the Power Thicken tool can offset and thicken a surface model. These tools can handle extremely complex geometry including difficult organic shapes.
The Power Shell and Power Thicken features are similar to other SolidWorks features (like Shell and Thicken). They show up in the feature history tree and will update in a similar manner.
Power Surfacing is the premier industrial design solution for SOLIDWORKS. With its tight integration inside of SOLIDWORKS, and its rich and powerful feature set, Power Surfacing has become the tool of choice for industrial designers who want to quickly generate beautiful designs that can easily be turned into manufactured solutions.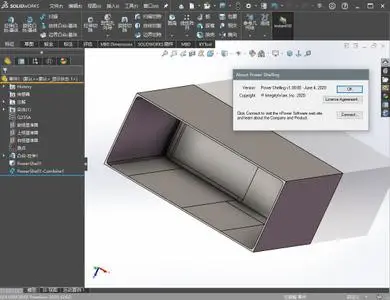 Powerful new Shell and Thicken technology
able to handle difficult self-intersections, small radius of curvature and complex geometry.
Shelling (and Thicken) failures are a common issue for virtually all CAD systems. Power Shell introduces new patent pending technology that finally addresses this important issue. Power Shell and Power Thicken use a new process for dealing with the complex Shelling and Offsetting failing cases typically encountered in CAD systems.
Power Shell & Power Thicken complement the SolidWorks Shell / Thicken tools. When Shell & Thicken fail, Power Shell & Power Thicken prevail. Power Shell and Power Thicken are intended to be used in the cases that fail the SolidWorks Shell / Thicken commands. When the SolidWorks Shell (or Thicken) command fails, you should use Power Shell to get the job done (instead of wasting time trying to modify your design so that the Shell command might work).
Video introducing new Power Shell add-in for SOLIDWORKS.
IntegrityWare, Inc.
is a company specializing in supplying 3-D geometric modeling and graphics technology solutions to vendors in a variety of industries. As a full service provider, IntegrityWare offers consulting services, NURBS-based software libraries, and Polygon-based software libraries.
Product:
Power Shelling
Version:
1.0
Supported Architectures:
x64
Website Home Page :
www.npowersoftware.com
Language:
english
System Requirements:
PC *
Software Prerequisites:
DS SolidWorks 2016-2020
Size:
289.3 mb
When running Power Shelling in the DS SolidWorks platforms, the minimum requirements are superseded by the minimum requirements listed for those platforms.
Please visit my blog
Added by 3% of the overall size of the archive of information for the restoration

No mirrors please