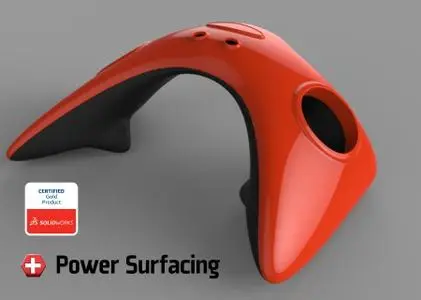 Power Surfacing 6.1 for DS SolidWorks | 807.4 mb
nPower Software / IntegrityWare, Inc announces the release of version 6.1 of its award winning product - Power Surfacing for SolidWorks. Version 6.1 added HDRI Lighting a model, precise conversion, 4 way symmetry, precise measurement, sketch constraints, Power Shell command, and more.
- Precise conversion
- Measurement (and accurate dimensioning)
- 4 Sided Mirror - Selection on either side
- New mirror algorithm - fixed creasing issues
- Precise Conversion for standard sub-d meshes - faster, lighter, and more accurate relative to Limit Surface of Sub-D.
- Phong Shading with lots of lights
- HDRI based lighting model
- New Quad Wrap (also automatically finds and closes most open edges)
- Shrink Wrap checks for Self Intersections
- Mesh Smooth (new global command)
- Mesh Offset (new command)
- Enhanced Quad Fill
- Lighter weight converted models
- Faster conversions
- New Power Shell command
- New Power Thicken command
What's new in the Power Surfacing/RE 6.1 add-in for SOLIDWORKS
Power Surfacing
is a revolutionary SOLIDWORKS industrial design add-in that will fundamentally change the way that engineers and designers design parts in SOLIDWORKS. Power Surfacing makes it easy and fun to design complex free form aesthetically pleasing Class A surfaces in SOLIDWORKS. No longer will you have to fight with patching a set of trimmed surfaces together to form complex curved shapes; manipulating Power Surfacing parts is as simple as modeling with clay.
Neither Sub-D (Subdivision Surface) modeling nor NURBS modeling can effectively solve all 3-D design problems. Each has strengths and weaknesses. Sub-D modeling is great at producing and modifying complex freeform / organic shapes with smooth surfaces. NURBS modeling is good at combining shapes via. Boolean and Feature operations as well as refining shapes with operations like filleting, blending and face editing.
We really see Power Surfacing as a novel and powerful unification piece between these two technologies. Being able to use both modeling paradigms together in the modeling process provides huge productivity advantages in both the design and revision process. With the ability to connect Power Surface Sub-D objects directly to existing SOLIDWORKS objects and to update the Sub-D to correspond to history tree modifications. Power Surfacing essentially provides dimension driven Sub-D modeling. Power Surfacing freeform design combined with SOLIDWORKS parametric design provides SOLIDWORKS users with a ground breaking Industrial Design toolkit.
This is a technology preview of our Power Surfacing plugin for SolidWorks.
IntegrityWare, Inc.
is a company specializing in supplying 3-D geometric modeling and graphics technology solutions to vendors in a variety of industries. As a full service provider, IntegrityWare offers consulting services, NURBS-based software libraries, and Polygon-based software libraries.
Product:
Power Surfacing
Version:
6.1
Supported Architectures:
x64
Website Home Page :
www.npowersoftware.com
Language:
english
System Requirements:
PC *
Software Prerequisites:
DS SolidWorks 2017-2020
Size:
807.4 mb
When running Power Shelling in the DS SolidWorks platforms, the minimum requirements are superseded by the minimum requirements listed for those platforms.
Please visit my blog
Added by 3% of the overall size of the archive of information for the restoration

No mirrors please