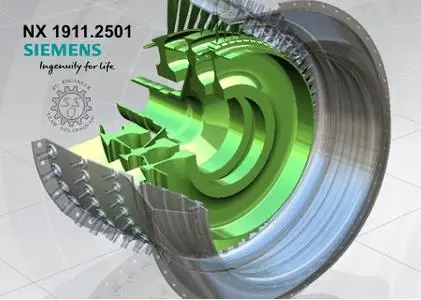 Siemens NX 1911 Build 2501 (NX 1899 Series) | 16.7 Gb
Languages: English, 中文, Čeština, Español, Français, Deutsch, Italiano,
日本語, 한국어, Polski, Português, Русский
The Siemens PLM Software product team is pleased to announce the availability of NX 1911 Build 2501 (NX 1899 Series). The latest release of NX brings significant new and enhanced functionality in all areas of the product to help you work more productively in a collaborative managed environment.
1911.2501 UpdatesCaveats Removed fields feature toggle for Lattice and Rod Thickness
Create a lattice with a variable rod diameter functionality was under a feature toggle in"Fields_AvailableForLatticeRodDiameter" in NX1899. This feature toggle is removed, and thefunctionality is available with no feature toggle in NX1911.
1911 ENHANCEMENTSCAM : Non-cutting moves in Rest Milling operations
The smoothing commands for non-cutting moves are now updated in in Rest Milling operations.
- The default setting for Max Stepoveris 100% Tool.The maximum value for Max Stepoveris 400%Tool.
- The Smooth Engage/Retract/Stepoverscommand does not override the Engage/Retractsettings.
- The Smooth Engage/Retract/Stepoverscommand is available when you define the IPW/Reference Tool. If blank geometry is defined with part offset or additional stock, the Smooth Engage/Retract/Stepovers command is not available.
CAM : Report Shortest Tool Enhancements
The Report Shortest Toolcommand has the following enhancements:
- NX supports the shank as well as the holder when calculating the shortest tool length.
- NX considers the holder and shank clearance when calculating the shortest tool length.
- When both the holder and shank are defined for a tool, NX reports the shortest tool that satisfies both the holder and shank clearance values.
- Changing the Tool Insertionoffset value does not affect the shortest tool value.
In all cases, NX rounds up the reported value to 1 decimal point for metric parts and 2 decimal points for inch parts. For example:
- 120.206 mm = 120.3 mm
- 30.206 in = 30.21 in
Note:
The Minimum Tool Length command is renamed to Report Shortest Tool. When you customize a dialog box, the customizable item is also renamed from Minimum Tool Length to Report Shortest Tool.
1911 8431400 Wrong force from Bolt-Preload on solid elements NASTRAN STRUCTURES SOL_101_SESTAT
1911 8436690 SpecDur - Fatigue Correction Factor CAE ADV_SIMULATION DUR_SPEC_SOLV
1911 8438854 SpecDur - Empty Results file CAE ADV_SIMULATION UNIF_DATA_VIE
1911 8438950 Solr Indexing for the Reuse library on server and clients KDA REUSE_LIBRARY INDEX_SEARCH
1911 8439093 KF ug_extended_sheet updates Angle degrees parameter as radians erroneously DESIGN FREE_FORM_MODEL EXTENSION
1911 8439189 Save all error : Objects cannot be created in partially loaded type chain CAE ADV_SIMULATION XYPLOT
1911 8441216 Internal error when using delete template AUTOMATN_DESIGN PAGE BASIC_CAPABILIT
1911 8441783 Saving Autoflex sim file makes the flexible Body out-of-date in Motion CAE MOTION FLEX_BODY_SC
1911 8441914 SpecDur - XML Import from VL Durability doesn't support UNV format CAE ADV_SIMULATION DUR_SPEC_UI
1911 8441932 SpecDur - Performance problem in big Duty Cycle with Universalfile data CAE ADV_SIMULATION DUR_SPEC_SOLV
1911 8565296 Eigen mode information cannot be retrieved from OP2 correctly CAE ADV_SIMULATION FEMALTREP_SET
1911 8566029 GSO: Latch (Spring) connection don't make correctly CAE ADV_SIMULATION CONNECTIONS_UNI
1911 8566929 GSO Creation : Incorrect work of Connection Location Check CAE ADV_SIMULATION CONNECTIONS_UNI
1911 8566931 Flatness check in quality audit CAE ADV_SIMULATION CONNECTIONS_UNI
1911 8566950 organized export: incorrect duplicated cbush and MPC elements CAE ADV_SIMULATION CONNECTIONS_UNI
1911 8566967 The solver path for linux is not assigned to execution shell script CAE ADV_SIMULATION SYSNOISE_EXPORT
1911 8567743 The difference of the way of counting the number of items between VL and SC3D CAE ADV_SIMULATION CONNECTIONS_UNI
1911 9374390 Problem that the color of the arrow does not match the color bar CAE ADV_SIMULATION POST_RESULT
1911 9536469 Display of Fraction line in TCVis is not matching with that of NX PMI PLMXML ALL
1911 9562643 Bolt Preload Results are wrong in NXN12 and NXN1872. NXN10 is correct. NASTRAN STRUCTURES SOL_101_SESTAT
1911 9563988 Predecessor PE welds not loading in NX when added after initial creation ASSEMBLIES ASSEMBLY_MODEL DESIGN_FEATURE
1911 9582888 Get random "General Fault Exception" error and NX session crashes SYSENG UI_TOOLS TOOLBAR
1911 9602797 Internal error: memory access violation on close of Workset. Fails to close. GATEWAY OPEN_JT UNDETERMINED
1911 9616132 Result variable dialog box breaks when selecting Bolt Pre-load CAE DES_SIMULATION POST_RESULT
1911 9616145 NXOpen Python Import SSL library fails in NX1888 SYSENG NXOPEN PYTHON
1911 9631032 Simcenter 3D (v.1888) - VL2SC/Migration CAE ADV_SIMULATION VL2NX_ACOUSTIC
1911 9643611 Customer Defaults dialog Ped Pro General tab garbles or Sig11 KDA GENERAL_PACKAGE PEDPRO
1911 9649829 Worksets take significantly longer to open in NX1855 than NX11 NXMANAGER FILE_OPEN PERFORMANCE
1911 9653315 Notes over 256 characters are being truncated using KF KDA KNOW_FUSION LANGUAGE
1911 9656110 Multiphysics license issue: structural + flow solver use thermal advance license CAE ADV_SIMULATION THERM_FLOW
1911 9663997 JT Export leads to 11 : Internal error: memory access violation ASSEMBLIES ARCHITECTURE ALL
1911 9668019 3d mesh update failure CAE ADV_SIMULATION MESH_3D_TET
1911 9669491 Internal error to edit NX Mold Wizard standard parts KDA MOLDWIZARD STANDARD_PARTS
1911 9671127 Component name in PF changed automatically to part name in NX1899 ASSEMBLIES PART_FAMILIES GENERAL
1911 9672799 JT - Export breaks down with internal error ASSEMBLIES ARCHITECTURE ALL
1911 9673879 VL2SC_decrypt.exe not working anymore CAE ADV_SIMULATION VL2NX_ACOUSTIC
1911 9678592 Poor Performance with Uni Connections CAE ADV_SIMULATION CONNECTIONS_UNI
1911 9683663 NX Reuse library create index disabled KDA REUSE_LIBRARY INDEX_SEARCH
1911 9686240 Problems with the IPW between turning and milling CAM TURNING IPW
1911 9686448 Performance regression reentering routing after changing applications ROUTING_GENERAL ADMINISTRATION PART_LIBRARY
1911 9687247 Memory Access Violation AUTOMATN_DESIGN LAYOUT ALL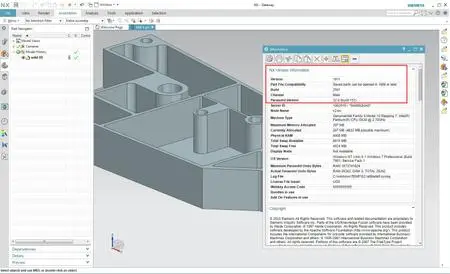 Siemens NX software
is a flexible and powerful integrated solution that helps you deliver better products faster and more efficiently. NX delivers the next generation of design, simulation, and manufacturing solutions that enable companies to realize the value of the digital twin.
Supporting every aspect of product development, from concept design through engineering and manufacturing, NX gives you an integrated toolset that coordinates disciplines, preserves data integrity and design intent, and streamlines the entire process.
Siemens become the first major CAD/CAM/CAE vendor to deliver its software using Continuous Release methodology in January 2019. The new Continuous Release process significantly reduce the time between the proposal of a new enhancement, and its deployment to the end users. Customers will now have the opportunity to deploy the latest NX productivity enhancements more quickly in their production environment which helps them become more productive when using NX. In addition the Continuous Release will also reduce deployment costs for incremental updates.
Adopting a continuous release strategy also allows both Siemens NX and our customers to be more responsive to new ideas and trends in technology, once again allowing our customers to stay ahead of their competition.
NX 1899 - Design Enhanced Patterning
Siemens PLM Software
a business unit of the Siemens Digital Factory Division, is a leading global provider of product lifecycle management (PLM) and manufacturing operations management (MOM) software, systems and services with over 15 million licensed seats and more than 140,000 customers worldwide. Headquartered in Plano, Texas, Siemens PLM Software works collaboratively with its customers to provide industry software solutions that help companies everywhere achieve a sustainable competitive advantage by making real the innovations that matter.
Product:
Siemens NX
Version:
1911 Build 2501 (NX 1899 Series) *
Supported Architectures:
x64
Website Home Page :
www.plm.automation.siemens.com
Language:
multilanguage
System Requirements:
PC **
Supported Operating Systems:
**
Size:
16.7 Gb
Siemens.NX.1911.2501.Win64.Full.Setup.iso
Siemens.NX.1911.2501.Win64.Update.Only.iso (NX 1899 pre-install)

Files save in the NX-1899 Series (NX-1899 and higher) cannot be opened in the NX-1872 Series (NX 1872-1892) and lower versions of the NX
Minimum Operating Systems
- Microsoft Windows 10 (64-bit) Pro and Enterprise editions

Windows 10
Windows 10 is the minimum supported release for NX 1899. The supported versions of Windows 10 are the Pro and Enterprise editions utilizing Semi-Annual Channel (SAC) updates.
Windows 7 and 8.1
Windows 7 has reached the end of life and mainstream support has ended. Windows 8.1 is still supported by Microsoft, but was rarely deployed. These two versions of Windows are no longer supported by NX 1899. Siemens PLM Software has not performed testing on these versions and cannot resolve any issues related to NX 1899 running on these operating systems.
Windows XP and Vista
Windows XP support from Microsoft has ended and Vista was rarely deployed so these two versions of Windows are not supported by NX 1899. Siemens PLM Software has not performed testing on these versions and cannot resolve any issues related to NX 1899 running on these operating systems.

Recommended System Configuration:
- 64-bit Windows 10 operating system
- 4 GB RAM minimum, 8 GB or 16 GB RAM recommended
- True Color (32-bit) or 16 million colors (24-bit)
- Screen Resolution: 1280 x 1024 or higher, widescreen format
Please visit my blog
Added by 3% of the overall size of the archive of information for the restoration

No mirrors please