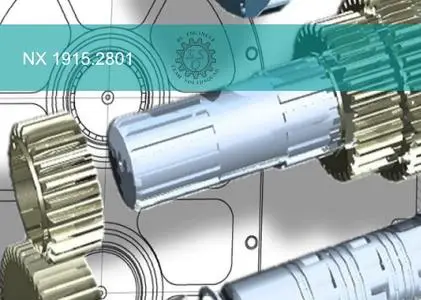 Siemens NX 1915.2801 (NX 1899 Series) | 16.9 Gb
Languages: English, 中文, Čeština, Español, Français, Deutsch, Italiano,
日本語, 한국어, Polski, Português, Русский
The Siemens PLM Software product team is pleased to announce the availability of NX 1915 Build 2801 (NX 1899 Series). The latest release of NX brings significant new and enhanced functionality in all areas of the product to help you work more productively in a collaborative managed environment.
We are proud to introduce the latest release of our product development solution. With this release, we continue to provide innovative ways to deliver solutions that meet the next generation of your product design, development, and manufacturing challenges. The new version of NX is robust and powerful, and it delivers advanced technologies for product design, development, and manufacturing in a single, multidisciplinary platform. It preserves best-in-class customer deployment readiness andbuilds on the productivity and stability achievements of the previous release.
1915.2801 Updates - Date: April 2020
1915 8429753 Welcome page not displayed once NX is opened
1915 8438627 NX weld item attribute publishing in read only form, without error
1915 8440250 NX1899 UI freezes for a minute after startup until displaying the welcome page
1915 8440775 Error opening Parts - The record area asked for does not exist in this object
1915 8440851 NX 1003 MP18 -> NX 1892 Part modified CAE
1915 8440926 FUSION Error reported in log file when running KF applications
1915 8441700 NX takes too much time to startup
1915 8441775 Weld Point Wizard unable to detect the overlapping reference sheet region
1915 8441804 NX1899 UI freezes for a minute after startup until displaying the welcome page
1915 8441914 SpecDur - XML Import from VL Durability doesn't support UNV format
1915 8441932 SpecDur - Performance problem in big Duty Cycle with Universalfile data
1915 8442107 Result Probe does not export Acoustic Pressure correctly to a unv-file
1915 8442112 Errors during Save or Save as operation of a Routing assembly
1915 8442193 NX delay in opening and closing
1915 8442226 Solid Profile - 3D - Follow: ( Wall bottom/ wall top) is missing
1915 8442350 Memory access violation error when editing a Fix Joint and OK
1915 8443093 Probe cannot be edited due to inconsistent units - strain changing to unitless
1915 8443867 VL2SC: Issue with embeded data curve using French region setting
1915 8445448 VL2SC: Solver Error for Simulation with Sphere to CAD contac
1915 8566946 GSO Composer : Freeze when run check program with Kinematic
1915 8566947 GSO Composer : Freeze when run check program
1915 8864632 Section Drawing not giving correct result, Additional Structure is missing.
1915 9495382 NX freezes during data export to STEP
1915 9548892 Teach Mode - Follow Curve Motion error
1915 9557210 Unable to create new Item with specific Naming Rule from NX
1915 9558487 Performance Issues after NX creates a JVM
1915 9587863 Teachmode Operation - Good in NX12.0.2…fails in NX1847
1915 9589169 Teachmode Turning Operation Not Generating Profile Move CAM
1915 9591624 NX fails to validate ID pattern if Auto Assign was executed
1915 9617978 PMI - Annotation Plane definition conflicts with selected geometry
1915 9625374 JT Export of welds includes small cube TRANSLATOR
1915 9630182 Zero Transmission Loss CAE
1915 9638865 Looking for a method to check for Associative Annotations being out of date
1915 9642880 KF ug_udfs class updates Angle degrees parameter as radians erroneously
1915 9647111 Missing thread at WAVE-Link
1915 9648267 Error during update of PMI object when using PmiWaveLinkBuilder class
1915 9648789 Error during split of Ship structure profiles with mirrored Plates.
1915 9651839 Multiple split of ShipStrPlates, used to split other profiles, results in error
1915 9670747 Feature2Mold terrminates NX session during undercut analysis of hole geometry
1915 9675398 NX-CAM Z Level operation - invalid storage identifier - Memory access Violation
1915 9675806 Unable to start NX 1899 from TC 12.2.0.4
1915 9678214 Load performance in NX CR for MCD big assemblies much slower
1915 9682881 Opening slowdown NX1899 with welcome-page active
1915 9683906 Motion Cam contact follower data not being properly exported.
1915 9684182 NX Reuse Library Build by Index Data Slow Performance
1915 9684529 Bad Performance: Component Patterns and Unloaded Components
1915 9687247 Memory access violation
1915 9688299 2D section library - Slot - Not Working
1915 9688938 Insert Symbol -> more Symbols Results in Internal Error: memory access violation
1915 9692445 Custom Tab not available in Sketch Mode
1915 9696779 Connected Face Finder in Weld Assistance gives incorrected results
1915 9705613 PR9684182 TCIN NX ReuseLibrary,Slow Member Loading with Build by IndexData
1915 9706194 KF ug_udfs class updates Angle degrees parameter as radians erroneously
1915 9706878 Simcenter 2020.1 Results Viewer says 2019.2
1915 9709902 Perpendicular PMI dimension placed to the extreme edge of reference object
1915 9710119 CAM NX1899-1904 - Welcome Screen
1915 9710459 Simcenter 3D - Performance mesh mapping CGNS pressure data
1915 9713264 Attempting to Move a constrained component results in an •Internal Error
1915 9731969 Force and Torque component results are inconsistent between Simcenter 3D UI and CAE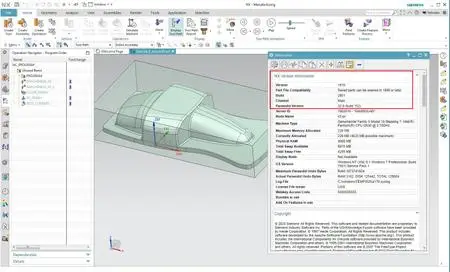 Siemens NX software
is a flexible and powerful integrated solution that helps you deliver better products faster and more efficiently. NX delivers the next generation of design, simulation, and manufacturing solutions that enable companies to realize the value of the digital twin.
Supporting every aspect of product development, from concept design through engineering and manufacturing, NX gives you an integrated toolset that coordinates disciplines, preserves data integrity and design intent, and streamlines the entire process.
Siemens become the first major CAD/CAM/CAE vendor to deliver its software using Continuous Release methodology in January 2019. The new Continuous Release process significantly reduce the time between the proposal of a new enhancement, and its deployment to the end users. Customers will now have the opportunity to deploy the latest NX productivity enhancements more quickly in their production environment which helps them become more productive when using NX. In addition the Continuous Release will also reduce deployment costs for incremental updates.
Adopting a continuous release strategy also allows both Siemens NX and our customers to be more responsive to new ideas and trends in technology, once again allowing our customers to stay ahead of their competition.
NX 1899 - Design Enhanced Patterning
Siemens PLM Software
a business unit of the Siemens Digital Factory Division, is a leading global provider of product lifecycle management (PLM) and manufacturing operations management (MOM) software, systems and services with over 15 million licensed seats and more than 140,000 customers worldwide. Headquartered in Plano, Texas, Siemens PLM Software works collaboratively with its customers to provide industry software solutions that help companies everywhere achieve a sustainable competitive advantage by making real the innovations that matter.
Product:
Siemens NX
Version:
1915 Build 2801 (NX 1899 Series) *
Supported Architectures:
x64
Website Home Page :
www.plm.automation.siemens.com
Language:
multilanguage
System Requirements:
PC **
Supported Operating Systems:
**
Size:
16.9 Gb
Siemens.NX.1915.2801.Win64.Full.Setup.iso
Siemens.NX.1915.2801.Win64.Update.Only.iso (NX-1899-1903-1904 to NX-1907 build 2201 pre-install)

Files save in the NX-1899 Series (NX-1899 and higher) cannot be opened in the NX-1872 Series (NX 1872-1892) and lower versions of the NX
Minimum Operating Systems
- Microsoft Windows 10 (64-bit) Pro and Enterprise editions

Windows 10
Windows 10 is the minimum supported release for NX 1899. The supported versions of Windows 10 are the Pro and Enterprise editions utilizing Semi-Annual Channel (SAC) updates.
Windows 7 and 8.1
Windows 7 has reached the end of life and mainstream support has ended. Windows 8.1 is still supported by Microsoft, but was rarely deployed. These two versions of Windows are no longer supported by NX 1899. Siemens PLM Software has not performed testing on these versions and cannot resolve any issues related to NX 1899 running on these operating systems.
Windows XP and Vista
Windows XP support from Microsoft has ended and Vista was rarely deployed so these two versions of Windows are not supported by NX 1899. Siemens PLM Software has not performed testing on these versions and cannot resolve any issues related to NX 1899 running on these operating systems.

Recommended System Configuration:
- 64-bit Windows 10 operating system
- 4 GB RAM minimum, 8 GB or 16 GB RAM recommended
- True Color (32-bit) or 16 million colors (24-bit)
- Screen Resolution: 1280 x 1024 or higher, widescreen format
Please visit my blog
Added by 3% of the overall size of the archive of information for the restoration

No mirrors please