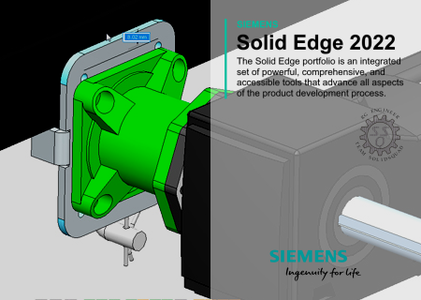 Siemens Solid Edge 2022 MP05 | 341.8 mb
Languages Supported: 中文 (Simplified), 中文 (Traditional), Čeština, English, Français, Deutsch, Magyar,
Italiano, 日本語, 한국어, Polski, Português-Brazilian, Русский, Español
Siemens Digital Industries Software is pleased to announce the availability of Solid Edge 2022 MP05. The 2022 release added embedded rules-based design automation, greater capabilities to work with point-cloud, mesh and imported data without the need for translation alongside new tools to for 2.5 axis machining and ultra-efficient upfront fluid flow simulation.
===Assembly===
PR 10242193: Unable to access Redefine Points if connected parts are inactive
PR 10244569: Not possible to add a feature to a mirror feature
PR 10290821: Subassembly features are showing as invalid in the top-level assembly
PR 10295147: Boolean operation is not calculated at Internal components
PR 9907351: Long delay and conflicting relationships message after creating a 'copy surface'
PR 10320364: Unable to sketch on reference planes

===Draft===
PR 10290094: Decals are not displayed in Drawing
PR 10297023: Crash when adding dimension with a virtual intersection
PR 10318453: Bend Callouts move back to their original position when using Update Views
PR 10257839: Text disappears when draft open is linked with model
PR 10301629: Option "Create 3D dimensions in Pictorial view" is not working
PR 10311601: Solid Edge crashes when using a selection window on a drawing
PR 10316505: Only letters are selectable for formatting in Feature Reference Syntax

===General===
PR 10308124: Crash when switching environments with prompt bar floating
PR 10289385: Solid Edge Cloud Gateway - "Download failed" error for downloading the MP
Note: Please download and install MP5 manually from Support Center. After installing MP5,
subsequent MPs will download and install from the Solid Edge Cloud Gateway.

===Part/Profile/Sheetmetal===
PR 10293794: When the user has a point cloud in the assembly and performs the following function
PR 10293923: Solid Edge is crashing while creating a hole in PWD documents
PR 8492581: Solid Edge is crashing when selecting a Radial Diameter dimension

===Simulation===
PR 10294347: Solid Edge closes without any warning when processing results in beam study
PR 8496848: Mesh and Simulation error from imported step file

===Teamcenter Integration for Solid Edge===
PR 8496164: LOV description not updated after SaveAs
PR 10048314: Solid Edge crashes when replacing assembly in an assembly
PR 10223716: Revision property conflicts with existing custom revision property
PR 10282928: Unable to perform Save As with Tc Required properties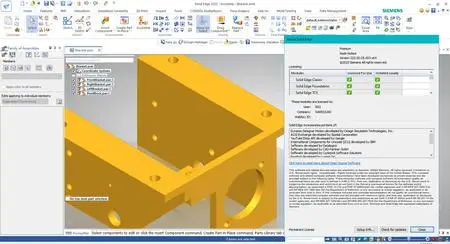 Solid Edge
is a complete 3D CAD system that uses Siemens Synchronous Technology for accelerated design, faster revisions, and better imported re-use that helps companies design smarter.
The Solid Edge portfolio is an integrated set of powerful, comprehensive, and accessible tools that advance all aspects of the product development process. Solid Edge addresses today's complexity challenges with automated digital solutions that cultivate creativity and collaboration. By harnessing the latest innovative technologies in mechanical and electrical design, simulation, manufacturing, publications, data management and cloud-based collaboration, using Solid Edge dramatically shortens time-to-market, provides greater production flexibility, and significantly reduces costs with its collaborative and scalable solutions.
Packed with more than 500 new features and enhancements, Solid Edge 2022 is engineered to grow your business – supporting modern product development processes, allowing you to do more with your resources and enabling new ways of working. New features and enhancements in this release are engineered in response to feedback received directly from Solid Edge users, making this one of the most exciting releases yet.
Introducing Solid Edge 2022 — Engineered to grow your business | Launch Event
The next evolution of Solid Edge is here. Be among the first to experience what's new in Solid Edge 2022.
Siemens Digital Industries (DI)
is an innovation leader in automation and digitalization. Closely collaborating with partners and customers, DI drives the digital transformation in the process and discrete industries. With its Digital Enterprise portfolio, DI provides companies of all sizes with an end-to-end set of products, solutions and services to integrate and digitalize the entire value chain. Optimized for the specific needs of each industry, DI's unique portfolio supports customers to achieve greater productivity and flexibility. DI is constantly adding innovations to its portfolio to integrate cutting-edge future technologies. Siemens Digital Industries has its global headquarters in Nuremberg, Germany, and has around 75,000 employees internationally.
Product:
Siemens Solid Edge
Version:
2021 MP05 (222.00.05.03)
Supported Architectures:
x64
Website Home Page :
www.plm.automation.siemens.com
Languages Supported:
multilanguage
System Requirements:
Windows *
Software Prerequisites:
Siemens Solid Edge 2022 and above
Size:
341.8 mb
Siemens Solid Edge 2022
Please visit my blog
Added by 3% of the overall size of the archive of information for the restoration

No mirrors please