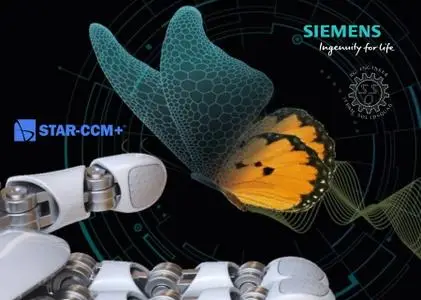 Siemens Star CCM+ 2021.1.1 R8 (16.02.009-R8 double precision) | 7.4 Gb
The Siemens Digital Industries Software development team is pleased to announce the availability of Simcenter STAR-CCM+ 2021.1.1. As with all maintenance release, this release includes fixes to various user-reported issues from the previous release, providing an overall more stable experience.
Fixes in Update Release of Simcenter STAR-CCM+ 2021.1.1
- ADJ-775 Fix a non-recoverable error that occurs when the user attempts to compute a complex cost function, for example in an expression report.
- FES-2198 Fix a non-recoverable error that occurs when running a simulation with an outlet boundary that uses the split ratio boundary condition.
- IMC-1683 Fix an error that occurs in parallel when selecting field functions for a data mapper.
- PPF-1415 Fix the abrupt closure of a simulation that occurs when the user prepares a surface standard deviation report, and selects as the input a threshold derived part of an average surface derived part.
- PPF-1433 Fix a bug that resulted in the partial generation of an average surface for certain combinations of input parts and parameterizations.
- PVIZ-6016 Prevent the Simcenter STAR-CCM+ server from suddenly terminating when exporting an animation to an MP4 movie file.
- SRM-2638 Fix unwanted collapse and patch merging in the Enhanced Quality Triangle (EQT) meshing method.
- SRM-2674 Stop the gap closure from closing surface mesh gaps even though contact prevention is active.
- SRP-3943 Fix a non-recoverable error that occurs when using region-based meshing to generate a polyhedral volume mesh.
- STARICE-4144 Fix the failure of the enablestarice license to function correctly with Simcenter STAR-CCM+ In-cylinder simulations.
- VBAT-6454 Provide a corrected announcement about the Battery Simulation Module (BSM) in the Important Notes section of the Release Notes, in that the Generate Regions action was removed and not the Setup Battery Parts Meshing action.
- VDLM-3525 Fix the missing turbulent mass source contribution from the interphase transfer models Resolved Fluid Film (Film-VOF) and Incident Mass Flux Impingement (Film-MMP) in cases with turbulent flow.
- VMESH-3488 Fix the database error that occurs during volume meshing with the thin mesher.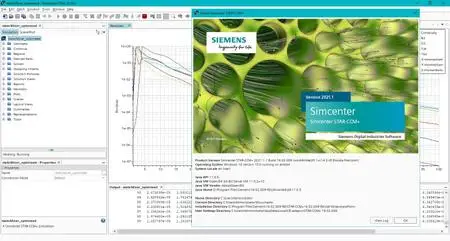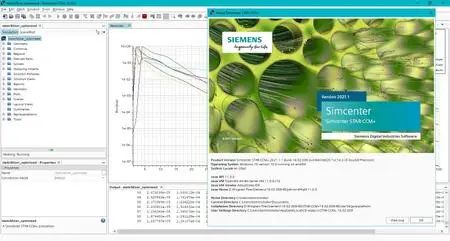 Simcenter STAR-CCM+
is a complete multiphysics solution for the simulation of products and designs operating under real-world conditions. Uniquely, Simcenter STAR-CCM+ brings automated design exploration and optimization to the simulation toolkit of every engineer, allowing you to efficiently explore the entire design space instead of focusing on single point design scenarios.
Simcenter STAR-CCM+ 2021.1 introduces a host of new multiphysics CFD simulation features to help you design better products faster and with greater confidence. 2021.1 includes new capabilities in turbomachinery and electromagnetics simulation, surrogate models for design
The additional insight gained by using Simcenter STAR-CCM+ to guide your design process ultimately leads to more innovative products that exceed customer expectations.
What's new Simcenter STAR-CCM+ 2021.1
Siemens PLM Software
a business unit of the Siemens Digital Factory Division, is a leading global provider of software solutions to drive the digital transformation of industry, creating new opportunities for manufacturers to realize innovation. With headquarters in Plano, Texas, and over 140,000 customers worldwide, Siemens PLM Software works with companies of all sizes to transform the way ideas come to life, the way products are realized, and the way products and assets in operation are used and understood.
Product:
Siemens Simcenter Star CCM+
Version:
2021.1.1 R8 Build 16.02.009-R8
Supported Architectures:
x64
Website Home Page :
http://mdx.plm.automation.siemens.com/
Language:
multilanguage
System Requirements:
PC / Linux *
Size:
7.4 Gb
Java Upgraded to OpenJDK Version 11.0.8
The Java SDK (Software Development Kit), which is required to compile the Java macros, has been upgraded to OpenJDK v11.0.8 in the current release. Simcenter STAR-CCM+ ships with AdoptOpenJDK 11.0.8+10. JDK builds prior to 11.0.8+10 do not work, but later versions of JDK 11 are allowed (both OpenJDK-based distributions and Oracle's JDK).

Certified Platforms for Simcenter STAR-CCM+ 2021.0 Windows
Windows 10 October 2018 Update
Windows 10 May 2019 Update
Windows 10, Version 1909 November 2019 Update
Windows Server 2012 R2 Standard
Windows Server 2012 R2 HPC Pack
Windows Server 2016
Windows Server 2019

Certified Platforms for Simcenter STAR-CCM+ 2021.1 Linux
RHEL Workstation 7.4, 7.5, 7.6, 7.7
RHEL Workstation 8, 8.1
CentOS 7.4, 7.5, 7.6, 7.7, 7.8
CentOS 8, 8.1
SUSE Linux Enterprise Server 12 SP3, SP4, SP5
SUSE Linux Enterprise Server 15, 15.1
openSUSE Leap 15, 15.1

These are the recommended hardware requirements to run Simcenter STAR-CCM+ and the CAD Clients. You can improve performance by using better specifications than those listed.

- Processor: 2.4 GHz CPU with at least 4 cores per CPU (to allow client and server to work in separate spaces and to run in parallel)
- Memory: 4 GB of memory per core.
- Disk Space: 9 GB of free disk space (more space is required to save simulations).
- Graphics Card: Dedicated graphics hardware that has 3D capability, z-buffer and translucency. Minimum screen resolution of 1024x768 pixels is recommended.
Please visit my blog
Added by 3% of the overall size of the archive of information for the restoration

No mirrors please