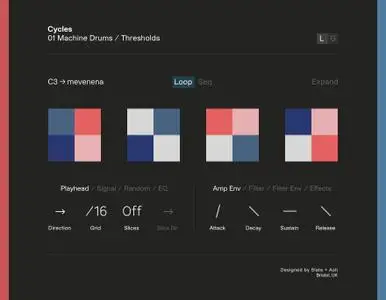 Slate + Ash Cycles v1.3.0 KONTAKT | 2.64 Gb
CYCLES is an innovative and powerful loop manipulation and granular synthesis environment. Through a variety of idiosyncratic and interactive processes pull apart and reconstruct audio instantly into an endless myriad of collaged loops, performable textures, modulating rhythms, generative sequences and playable pads.
REIMAGINE SOUND WITH LOOPS + GRAINS
The LOOPS engine is an audio looper, splicer and synthesiser. Audio is manipulated using an interactive visual timeline that slices the loops into rhythmic segments and re-collages them to create new and irregular formations. Playback parameters facilitate detailed loop manipulation whilst parameter modulation and slice randomisation can create further rhythmic evolution.
The GRAINS engine operates at the micro level, deconstructing the loops into tiny fragments and then rebuilding them into diffuse and amorphous clouds of texture. Grains of variable size, shape, pitch, volume, pan and direction interact to create a multitude of generative soundscapes and gestural movements, with physically simulated modulation introducing natural repetition by animating parameters in cyclical patterns.
TECHNICAL DETAILS
+ 189 presets patches
+ 100 preset engine states
+ 494 sound designed loop sources
+ Approx 2.8GB samples compressed
+ Up to date and powerful CPU recommended
+ Runs in the free Kontakt 6.3.2 Player or full Kontakt 6.3.2 or higher