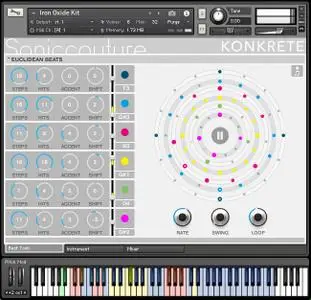 Soniccouture Konkrete v1.1.0 KONTAKT | 814 Mb
The kits are the foundation that gives Konkrete 3 its unique sonic range and power. A vast array of techniques, recording sessions, synths, gear and tools were used to create this unrivalled sonic palette of 5000 sounds. Each of the 92 kits contains 61 sounds - that's a full 5 octave keyboard to explore.
Inspired by Pierre Schaeffer and Musique Concrète of the 1940s, the philosophy of KONKRETE is to collect both acoustic and electroacoustic sounds and "abstract the musical values they potentially contain". The sampler is the modern equivalent of the tape manipulation used in those days, and is the ideal tool for sonic exploration. When placed in the grasp of KONKRETE, the simplest percussive knock can be pulled and shaped a thousand ways, giving an infinite palette of new drum sounds.