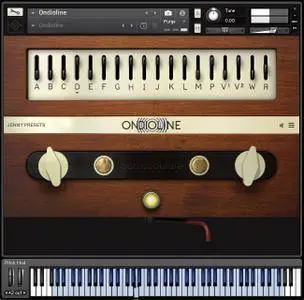 Soniccouture Ondioline KONTAKT | 2.88 Gb
The Ondioline was invented in 1941, and produced in France throughout 1950s/60s. It was conceived by inventor Georges Jenny as a low cost Ondes Martenot; sharing the same lateral vibrato keyboard, with a knee-lever to shape volume. It was entirely valve-based with its own built-in amplifier and inspired the Clavioline, Jennings Univox and Hammond Solovox. The sound can be surprisingly realistic when the vibrato and knee lever are used together - organic, sinuous and extremely expressive. In collaboration with Goldfrapps' Will Gregory and Dan Wilson from Hideaway Studio, Soniccouture extensively restored and modified Ondioline no.599 to be sampled and recreated as a Kontakt instrument.
A few legendary recordings feed into the myths and misinformation about these early synth instruments: Del Shannon's "Runaway" (1961), The Tornados' "Telstar" (1962), and The Beatles' "Baby, You're a Rich Man" (1967). In fact, most reliable sources point to all of these records being performed on a Clavioline (although it may be that 'Clavioline' is often used as a generic term for any instrument of this type), said to be a simpler version of the Ondioline - although the model used for 'Runaway' was heavily modified by player Max Crook, adding tremolo, vibrato and spring reverb. One of the most well-known Ondioline records is Stereolabs' 'Jenny Ondioline', which is simply a reference to 'George Jenny Ondioline'. The record itself does not feature the instrument. Ondioline featured in the soundtrack to Spartacus, Tommy James and the Shondells' 1967 hit "I Think We're Alone Now" and numerous Al Kooper recordings. It was also part of Motown's studio between 1959-62, where it was used on records by The Supremes, Temptations and many others.